When it comes to hunting, having the right tool for the job is extremely crucial, and having the best hunting knife is fundamental. Of course, all knives carry the same features – a blade and a handle. But, what makes them different from one another is their purpose.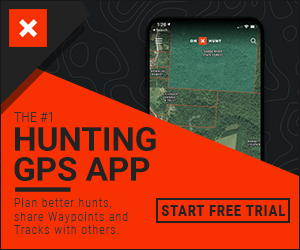 For instance, a camping knife typically comes with a large blade that enables people to cut through things easily and efficiently. Similarly, a hunting knife is generally designed with blades that are as long as 4.5 inches, or even more, to gain proper control when handling the game.
A good hunting knife should be able to butcher any game that you hunt, but its use doesn't end there. You can use the knife to carry out other outdoor cutting activities as well, like cutting small branches for the campfire, chopping vegetables, etc. Following is a compilation of some of the best hunting knives you can find on the market today:
QUICK SELECTIONS
OUR FAVORITE HUNTING KNIVES – REVIEWED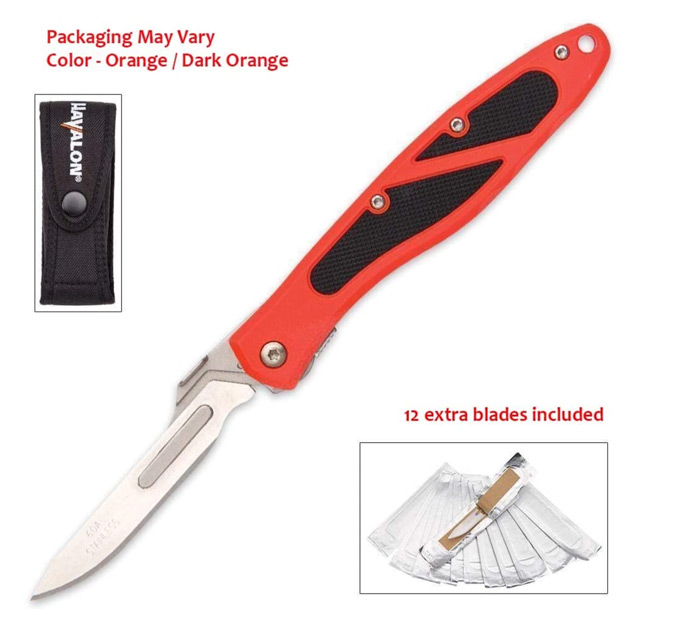 This ultra-lightweight replaceable blade hunting knife works extremely well for field dressing deer and other wild game. The Havalon comes with 12 replacement blades, which is nice.
These blades are SUPER sharp, ready to perform surgery. If you need to make quick work in the field, it really doesn't get much better.
However… they aren't the strongest. Blades will break on you if you apply too much muscle.
Total length: 2.75 inches (blade) // 7.25 inches (overall length blade & handle)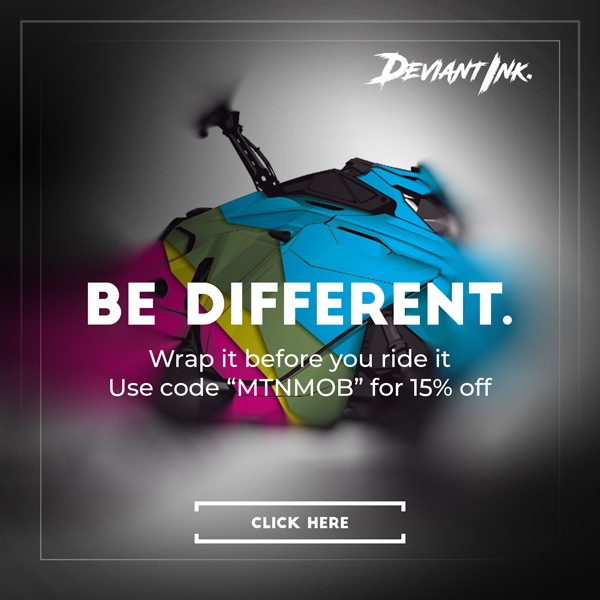 Weight: 2.5 ounces
Pros
Lightweight
Always have a sharp edge (assuming you have replacement blades)
Ergonomically functional
Cons
Blades can break/pop off if you apply awkward heavy pressure
Small grooves/nooks that can make it difficult to clean up completely after field dressing
---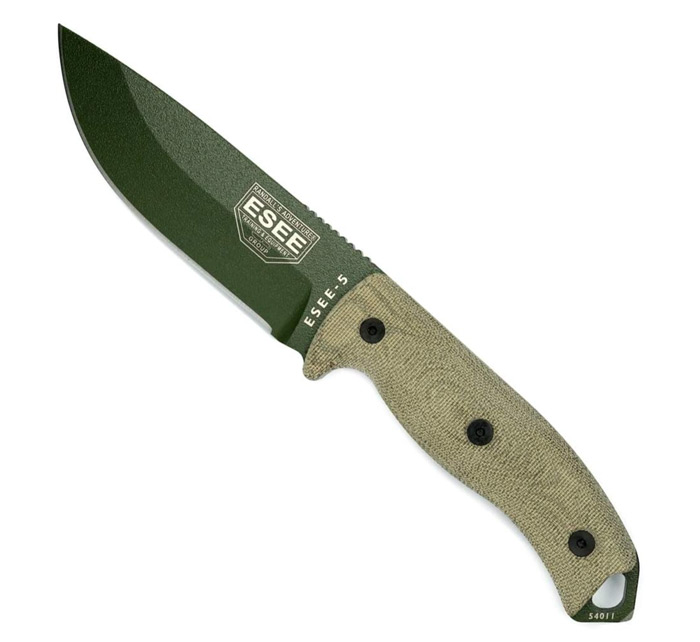 ESEE Knives is known for making high-quality field-grade knives and gear for over two decades now. The ESEE-5 Fixed Blade Knife is one of the hard-core survival knives you can find on the market, with quite a hefty price tag.
ESEE is one brand that does rigorous testing on its prototypes before any specific knife model is sent to production, and even the finished knives are again tested in extreme outdoor conditions. This only means that when you buy a knife from the company, like the ESEE-5, you can rest assured that you are investing in a product that is specifically designed to endure the hardships the wilderness throws its way.
The ESEE-5 Fixed Blade Knife is designed as an 11-inch knife, with a 5.25-inch blade. This drop point hunting knife is made from 1095 carbon steel 55-57 RC. While this type of carbon steel is easy to sharpen and holds an excellent edge, it is prone to rust, which means it requires regular and proper maintenance. You will have to oil the blade regularly to maintain its sharpness and functionality, and this can be burdensome for many users, especially considering the money you have to pay for it.
But, there is no denying that this is one highly functional hunting knife. The shape of the blade is molded perfectly to make the knife suitable for any type of outdoor cutting or butchering task. Though the blade is coated with textured powder to prevent corrosion, the powder seems to wear off along the edges, and those areas become prone to rust. The handle used here is a 3D contoured G10 Micarta, which is known to provide a great grip, and it is also resistant to cold, heat, impact, and also chemicals. The ESEE-5 Fixed Blade Knife is backed by the company's unconditional lifetime guarantee.
Pros
Highly functional.
Excellent grip.
Unconditional lifetime guarantee.
Cons
Requires regular maintenance.
Powdered coating on the blade wears off along the edges.
---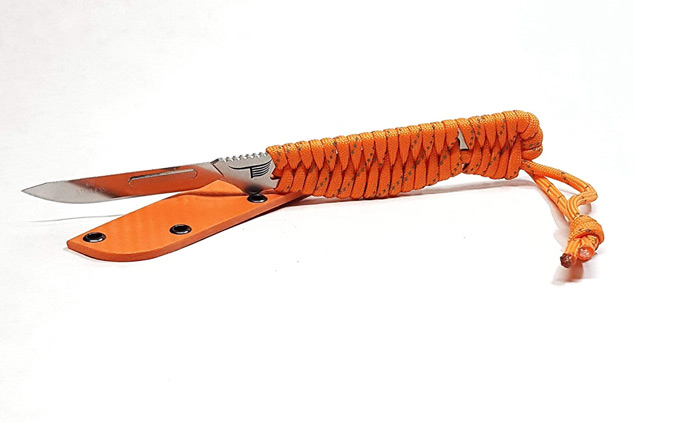 This ultra-light removable blade (scalpel) knife is the backcountry hunter's go-to tool for quick field dressings deep off the beaten path. It's constructed of one solid piece of stainless steel, protective sheath, and roughly 5ft of paracord wrapped around the handle.
It operates on a super convenient replacement blade system. Once the blade dulls out on you, simply pop it off and place a new razor sharp blade on.
Like we mentioned above, it's super lightweight.
Total length: 7.5 inches
Weight: 1.5 ounces (blade, handle, sheath)
Pros
Lightweight
Always have a sharp edge (assuming you have replacement blades)
Ergonomically functional
Cons
Blades can break/pop off if you apply awkward heavy pressure
---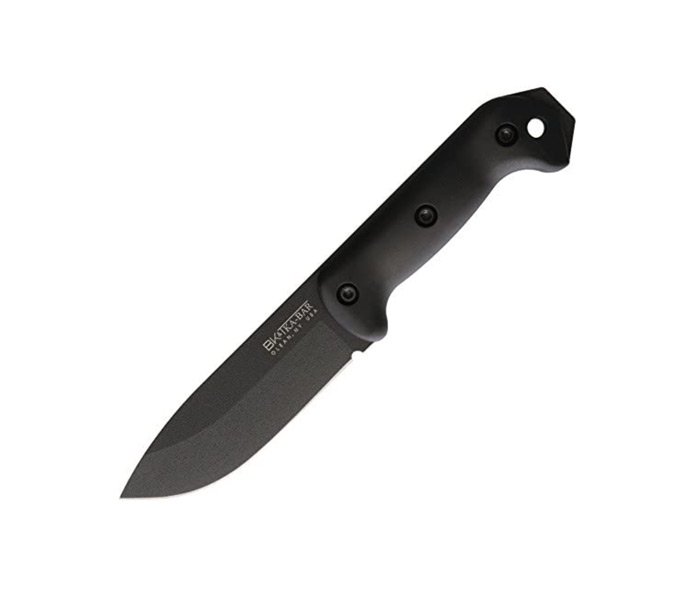 Think of high-quality tactical and utility knives, think of KA-BAR Knives. From hunting to the military to sporting, KA-BAR knives serve the purpose behind their design, and the Becker BK2 Companion is no exception.
Designed by Ethan Becker, a renowned designer and maker of knives, the BK2 Companion was designed and manufactured specifically for outdoor applications. Weighing just over 450 grams, this tough fixed-blade hunting knife can quickly change from helping you skin your game to cutting onions for your camping dinner. The blade used on the knife is made of 1095 CRO Van steel, which is high carbon steel known for its easy-to-sharpen and wear-resistant properties. However, there is a downside to this steel; it is known to be prone to corrosion, which means you need to put extra care in its maintenance to prevent rust.
The length of the blade is 5.25 inches, right in the range of a hunting knife, and has a drop point shape with a 20-degree blade angle for easy cutting and cleaning of the game. The overall length of the KA-BAR Becker BK2 Companion is 10.5 inches, and it features a Grivory handle that is not only durable but comes designed with the right angles to deliver a confident and comfortable grip. The knife comes with a glass-filled nylon sheath for storing it safely and maintaining its sharpness.
Pros
Lightweight and durable.
5.25 inches blade.
Well-designed handle.
Comes with a nylon sheath.
Cons
The blade is prone to rust.
---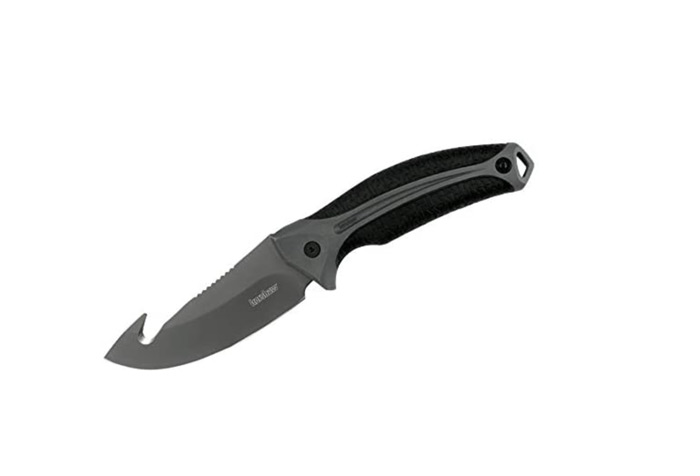 When you think about everyday knives, outdoor knives, or any other type for that matter, Kershaw is one of the brands that are most likely to strike your mind. With the use of advanced materials and new technologies, products from the brand have always made their users happy with their impressive performance. The 1896GH LoneRock Knife is a high-performer in its own right.
The LoneRock features an 8Cr13MoV steel blade, which is the commonly used steel in budget-friendly knife models. Despite being low-end steel, it still offers excellent hardness for its price, is corrosion-resistant, wear-resistant, and easy to sharpen as well. For a knife in this price range, getting such amazing blade characteristics makes choosing this knife as your hunting knife a no-brainer. The blade is 4.25 inches in length, which is just the right size for a pocket hunting knife.
Also deserving a mention is the design of the blade. While the blade will easily satisfy your needs for a hunting knife, the cherry on top is the gut hook that comes built-in, which is a great addition for a budget-friendly knife such as this. The blade is also coated with titanium carbo-nitride as an extra layer of protection from everyday wear and tear.
In terms of handle/grip, what you get with the 1896GH LoneRock is a glass-filled nylon handle with a K-Texture grip, which is sturdy enough to give you a strong and comfortable grip. A nylon sheath is included with the knife for storage and transportation.
Pros
Pocket-size.
Corrosion- and wear-resistant.
Easy to sharpen.
Strong grip.
Budget-friendly.
Cons
No significant downfall.
---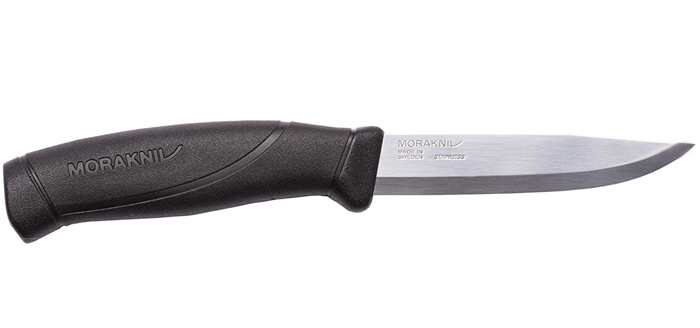 With decades of experience in the knife-making industry, Morakniv is one of the very few brands that you can trust for their experience in delivering quality products. Offering products in several categories, the brand has exclusive line-ups for knives serving different purposes. Its Companion series of knives, which includes this one on our list, comprises of all-around knives for survival in the great outdoors.
The Companion is one of the bestsellers in Morakniv knives, and as its name indicates, it is designed to be your best companion during your camping and hunting trips. One of the highlights of this best hunting knife is that it is suitable for both beginners as well as experienced hunters.
As expected from a reputed brand like Morakniv, the Companion Outdoor Knife comes with a blade made from Swedish stainless steel, which is known to be less prone to rust, stay sharp longer than carbon steel, and amazingly tough. These characteristics of the 4.1-inch blade make this knife suitable for both small and big game hunting, or even fishing.
The TPE rubber grip handle on the Companion is designed ergonomically to provide you with a comfortable and secure grip. The knife is available in a wide range of colors and a matching sheath is included with the product, made from hard plastic, featuring a belt clip too. Above all, the Companion Outdoor Knife is backed by the company's limited lifetime warranty.
Pros
Lightweight.
Pocket-friendly price.
Stainless steel blade.
Ergonomic handle.
Limited lifetime warranty.
Cons
No significant downfalls.
---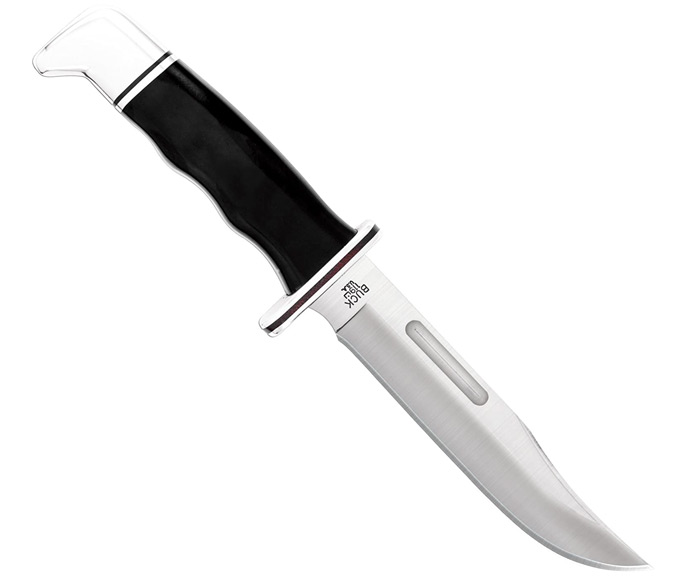 Talk about experience and craftsmanship, Buck Knives has been nailing it for more than 110 years now. From the quality of its materials to the advanced technologies it uses in the design and manufacturing processes, the brand had made sure to meet the expectations of its customers in every way possible. The 119 Special hunting knife from Buck Knives is one of the company's bestselling fixed-blade knives.
Though many might have considered the 119 Special to be quite a large knife for outdoor use when it was first introduced, with a 6-inch blade, it is now, undoubtedly, one of the best hunting/outdoor knives you can have. Yes, the knife belongs to the higher end of the hunting knives category, but rightly so. From its nice hollow grind to amazing edge retention capability, this knife is the real deal.
The blade on the 119 Special is made from 420HC steel, which is the brand's standard material, thanks to its corrosion- and wear-resistance properties. The resistant nature of the blade and its durability are further enhanced by the company's exclusive heat-treat process, and it is evident in the way the knife performs in the wild.
Available in Black and Wood options, the Buck Knives 119 Special has a clip point blade that will be suitable for piercing and cutting in tighter places. However, the tip of the blade is quite stout and may not be the first choice for those of you who prefer finer tips in your hunting knives.
When it comes to the handle, it features a Dymalux Cocobolo handle, with brass guard/pommel and palm swells. It delivers a comfortable grip and the finish looks good too. The guard, at times, can get in your way, say when you are butchering an animal. Included in the pack is a genuine leather protective sheath with a snap fastener, and there is an integrated belt loop as well. The knife is covered by Buck Knives' Forever Warranty.
Pros
6-inch blade.
Great edge retention.
Wear- and corrosion-resistant.
Comfortable grip.
Genuine leather sheath.
Forever Warranty.
Cons
Stout blade tip may not be suitable for fine slicing.
The guard can be intrusive at times.
---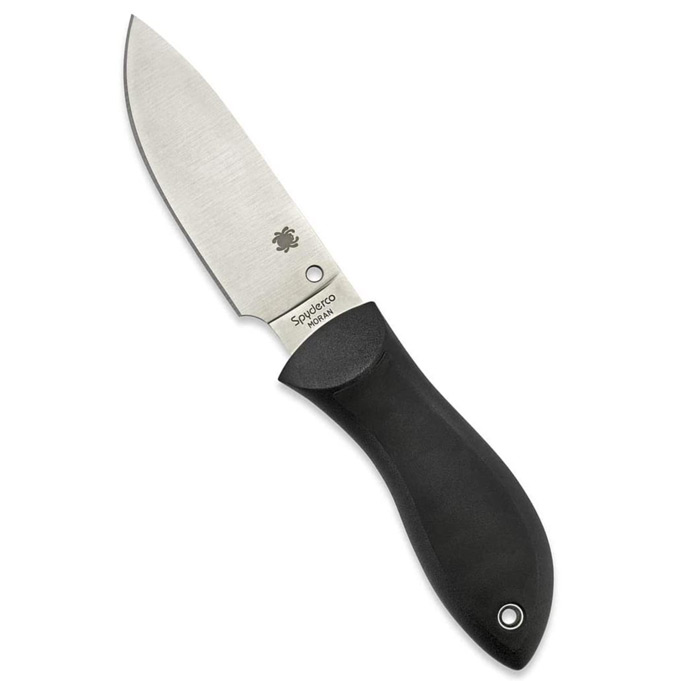 Spyderco is a company with over 40 years of experience in the cutlery industry and has introduced new designs, features, and technologies that have revolutionized the knife industry. Bill Moran was one of the most popular custom knife makers, rightly known as the grandfather of American custom knifemaking. While the original custom-made knives of Moran cost easily thousands of dollars, the Moran Drop Point Knife is the outcome of Spyderco's production collaboration patterned in the legend's tradition, providing an affordable alternative.
The overall length of this knife is 8.06 inches, and that of the blade is 3.8 inches. This is a drop point blade made with VG-10 steel, Japanese stainless steel that offers good wear-resistance, toughness, and corrosion resistance, and is also easy to sharpen. The design of the blade makes the knife perfectly suitable for gutting both small and large animals, and it can work great as a general camping, fishing, and outdoor knife too. Not to forget, the blade also carries Bill Moran's signature.
Coming to the handle, though it looks plain and simple, its functionality will make your jaw drop. It is cut perfectly to fit inside your palm and will stay in place when you make precision cuts, remaining comfortable the whole time. Thanks to the use of a rubber-like material called Kraton, the handle will remain secure in your hand without slipping down, and the material is water-resistant as well. However, the same material can make cleaning a bit hard.
The sheath is yet another stunning aspect of the Spyderco Moran Drop Point hunting knife. This is a Kydex sheath that is designed to fully hug the knife, locking it down in place when you want to put it away. The sheath has a belt clip, which can be used horizontally or vertically to attach the knife to your belt.
Pros
Tough blade.
Functional handle.
Corrosion-resistant.
Easy-to-sharpen blade.
Cons
The rubber-like handle can be a bit difficult to clean.
---

This ultra-lightweight replaceable blade hunting knife works extremely well for field dressing deer and other wild game. Gerber's version of the replaceable blade is similar to the other knives mentioned in this best hunting knife review guide. You really can't go wrong with any of them. We would say that Gerber's handle is a bit more ergonomic to the grip than the Havalon and is a little smaller.
These blades are SUPER sharp, ready to perform surgery. If you need to make quick work in the field, it really doesn't get much better.
However… they aren't the strongest. Blades will break on you if you apply too much muscle.
Total length: 2.75 inches (blade) // 6.9 inches (overall length blade & handle)
Weight: 1.3 ounces
Pros
Lightweight
Always have a sharp edge (assuming you have replacement blades)
Ergonomically functional
Cons
Blades can break/pop off if you apply awkward heavy pressure
Small grooves/nooks that can make it difficult to clean up completely after field dressing
---
How to Choose the Best Hunting Knife
Finding the best hunting knife can be a daunting task and can easily intimidate you if you are new to the hunting sport. With an infinite number of options and styles available out there, how can you find the one knife that perfectly suits your needs? Here are some aspects you should consider:
Purpose
To begin with, you should know the purpose for which you need the hunting knife. For instance, if your only intention is to use the knife for skinning the game you hunt, you should look for a hunting knife designed specifically for skinning. On the other hand, if you prefer to have a knife that can serve as a multifunctional tool, like cutting branches, butchering game, chopping veggies, etc., you need a general-purpose knife.
Type of Game
The type of game you will be hunting also impacts your choice of the best hunting knife. The straightforward rule is that hunting smaller games, like rabbits, will require a smaller hunting knife, whereas, for larger games, you will need a large one. But, if you are not sure about the type of game you will be hunting, go with a 4-inch blade hunting knife, which should suit best for general hunting. You can always upgrade when required.
Fixed Knife vs. Folding Knife
As the name suggests, a fixed blade hunting knife has its blade permanently attached in the open position. These knives are known to be sturdier and reliable, as there are no moving parts involved. However, you will always have to carry them in a sheath. A folding hunting knife, on the other hand, has a blade that folds back into the handle. These knives usually have a locking mechanism to prevent accidental closing or opening of the blade, and these knives are compact and easy to carry. Let's just say that if you are a serious hunter, a fixed blade knife should be your route; if hunting for you is an occasional stress buster, you can do just fine with a folding knife.
Grip
When using a knife in the wilderness, for any purpose, you need to have complete control over it without losing your grip. Hunting knives traditionally came with grips made of materials like wood, bone, leather, etc. However, manufacturers these days use rubber-like materials on their hunting knife handles to provide users with a better grip, even in wet conditions. When you hold the knife in your palm, you should feel comfortable with its weight and grip.
Hunting Knife Maintenance
You can extend the life of your hunting knife with proper care and maintenance. The best way to do this is by cleaning your knife's blade and handle after each use. Use cleaning products specifically formulated for this purpose, or follow the cleaning techniques recommended by the knife manufacturer. Always store your knife in its sheath to maintain its shape and sharpness. When you choose a hunting knife with a blade material that is easy to sharpen, you can learn from an expert to sharpen it on your own.
Conclusion
Choosing the best hunting knife depends more on your personal requirements and preferences than anything else. Whether you are looking for a pocket-friendly hunting knife model as a beginner or a high-end unit for the hunting expert in you, we have everything covered in our list above.