As a hunter, you know that one of the most important things you need to take care of are your feet.  That's why we're talking about the best hunting boots today!
Whether you hunt in warm or cold climates, your feet need to be well taken care of. Having cold or wet feet, or both, can ruin your entire hunting trip.  Take care of your feet, and you are sure to have a much better experience, and even increase your chances of a successful hunt. 
Hunting boots are not the same for every type of hunter. There are various types of boots that better suit different kinds of hunting. For example, you wouldn't want to wear thin, lightweight boots to hunt in cold climates. And oppositely, you wouldn't want to wear thick, insulated boots to hunt in the sun all day. Before purchasing, make sure you do some research to find what type of boot fits best for the type of hunting that you typically do.
To help you out, we have compiled a list of some of the best hunting boots. 
Below, we review some of the best hunting boots on the market from elk hunting to cold weather hunting.  Then, we discuss a few tips on what qualities to look for in hunting boots, as well as how to properly maintain and care for them. 
Best Cold Weather Hunting Boots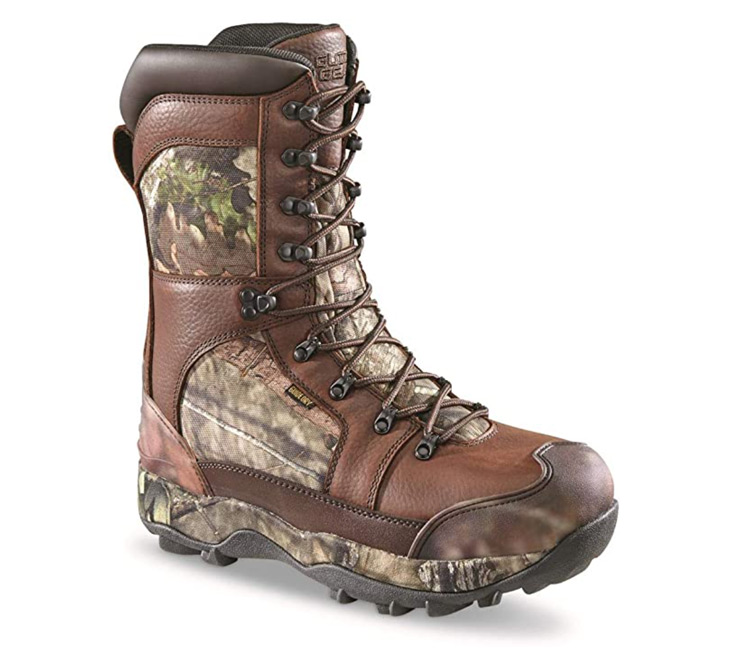 The Monolithic Extreme Waterproof Insulated Hunting Boots from Guide Gear are the best on the market for hunting in extreme cold temperatures. These boots were built to withstand unbearable cold while you're sitting on top of a ridge with your spotting scope and tripod in hand.  On the outside, waterproof leather stops the wind, cold and moisture from penetrating inside the boot. A thin layer of 900-denier nylon comes next.  This material is waterproof, yet breathable for the comfort of your foot.  Next, 2,400 gram Thinsulate Ultra Insulation keeps your feet toasty comfortably for a long day of hunting in the cold. 
The outsole of the shoe is made with multi-directional rubber lug. This is a thick and sturdy tread that is guaranteed to provide you with traction in even the most unsteady situations. It is slip and oil resistant so that you stay planted firmly on your feet. The midsole is made from thick EVA while the insole is made from polyurethane foam. The combination of these two materials together hugs your foot and keeps it comfortable while you are on your feet all day. As if this wasn't enough, there is an additional layer between the midsole and the outsole. This is a thin, 8mm layer of wool that acts as a frost barrier between the environment and your skin.
The toe and heel of these boots are made from molded PVC, adding strength and durability to these Guide Gear boots. Each boot is approximately 42 ounces, which is roughly 2.6 pounds. The height of these boots also adds warmth to your lower legs. They measure in at about 11 inches tall. Users complain that these boots are slightly bulky, but the little bit of added bulk is worth it for the warmth they provide.
---
Best Rubber Hunting Boots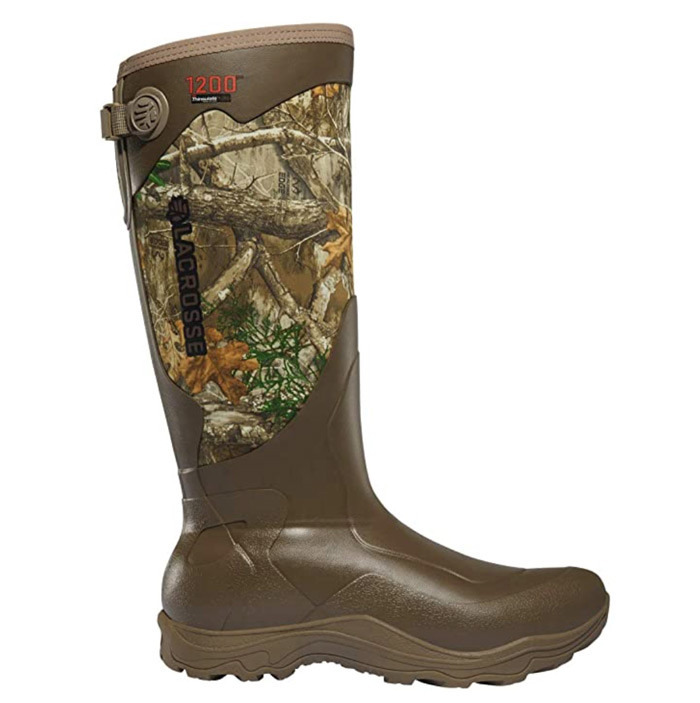 The Lacrosse company is well known for its high quality outdoor gear. The Men's Alpha Agility 17" 1200G Waterproof Hunting Boot from Lacrosse is no exception to this fact. These boots are flexible, yet durable, and made with the highest quality materials. The outside of these boots is made from premium rubber. The rubber is hand laid, and is made with multiple layers in areas that need extra protection. The rubber envelopes the neoprene core. This material naturally insulates and repels water, keeping your foot and calf warm, dry and comfortable in even the worst conditions. To protect your feet from extreme colds, this boot is also lined with 1200G insulation.
Underneath the arch of each foot there is a carefully placed shank. This shank is in place to protect your feet and help keep you stable while you are exploring uneven surfaces. Above the shank is a footbed. This extra layer of cushioning is directly under your foot to give you as much comfort and support as possible. However, if you would prefer, the footbed can be removed for a fit that is more customized to your individual foot. The outsole at the very bottom of the boot is also made from premium rubber with thick and durable tread. The quality of the rubber in this part of the shoe is very important. When rubber is poor quality, it can turn hard and stiff in cold temperatures and too soft in hot temperatures. The high quality rubber used in Lacrosse products keeps its flexibility and strength in any climate.
---
Best Elk Hunting Boots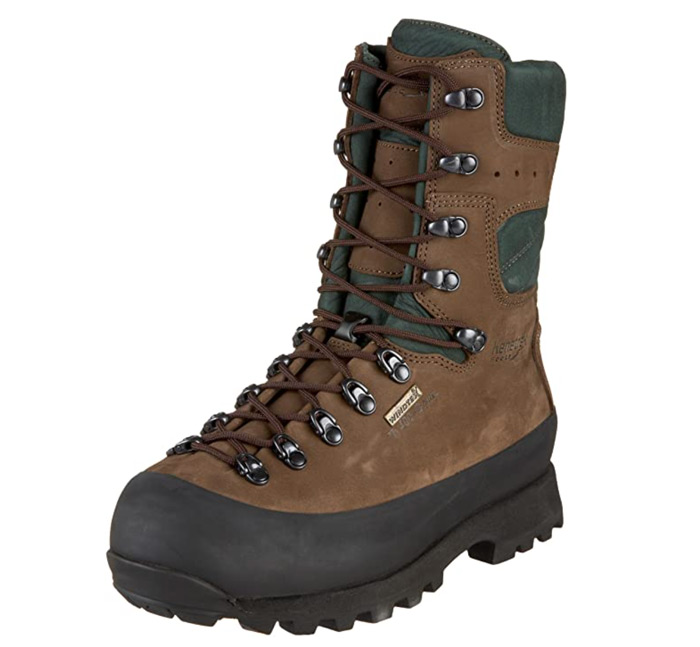 The Kenetrek Men's Mountain Extreme 400 Insulated Hunting Boot is a serious boot for some serious Elk hunting – even if you are pedaling in! Made for extremely rugged terrain, these hunting boots will keep you safe and grounded no matter what.  Standing at ten inches tall, these boots keep your feet and calves dry and warm in various environments. The Mountain Extreme 400 Insulated Hunting Boots from Kenetrek are made with 2.8 mm top grain leather.  This leather is made in a one piece vamp construction so that there are no seams down the tongue at all.  This design adds to the waterproof nature of the boots, as well as resists abrasion. 
Inside of the leather is a 7mm stiff nylon midsole. The strength of this layer gives you extra support with pack loads and keeps your ankles from rolling. An additional layer inside the boot, and one of the most important, is the 400 gram Thinsulate layer. This gives your foot warmth without adding unnecessary bulk to the boot. To keep your foot dry, a Windtex breathable, waterproof membrane is also sandwiched between these layers. Lastly, the outsole of the boots is made from K-Talon. This is a lightweight material that gives excellent traction in steep and rugged terrain.
---
Best Mountain Hunting Boots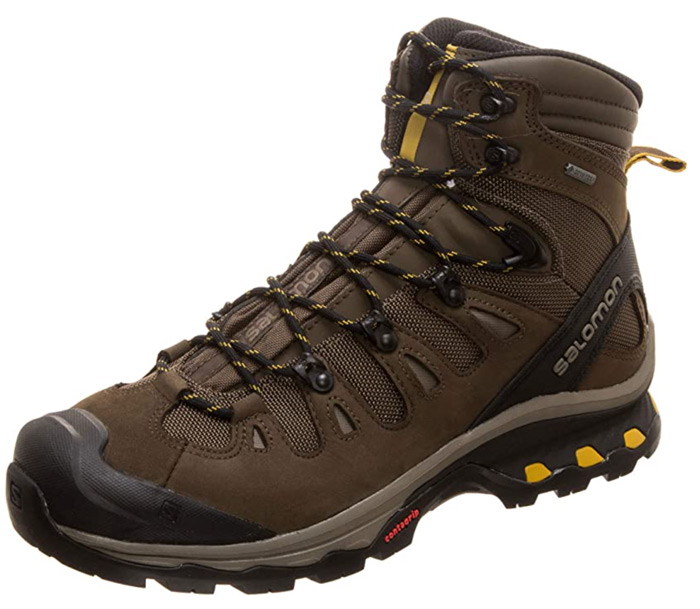 From Salomon comes the Men's Quest 4d 3 GTX Backpacking Boot.  These boots are best for hunting in the mountains because they were initially made for hiking.  They are lightweight and have impressively thick tread to keep you on your feet in rough terrain. Which should also help keep you a bit more stealthy when you're trying to get into close range.
The Men's Quest 4D 3 GTX Backpacking Boots are actually designed with running shoe technology.  With this design at its heart, the shoe then has additional strengthening and supportive features to make it suitable for walking in the mountains.  This means that, while you are wearing sturdier and more supportive hiking boots, you will feel like you are just wearing lightweight running shoes. 
The 4D Advanced Chassis technology helps to guide your foot into the optimal position each and every step. This greatly reduces fatigue and keeps your feet happy for a long day of hunting. An additional Gore-Tex waterproof membrane keeps your feet completely dry from both the outside and inside. This is possible due to the unique properties of Gore-Tex. This wonderful material is waterproof, yet breathable, so the heat from your feet can be released.
Yet another impressive feature of the Men's Quest 4D 3 GTX Backpacking Boots is the lacing system. SensiFit technology is utilized to cradle your foot from the midsole, all the way to the laces. This allows for a very snug and comfortable fit that feels completely customized to your foot. The laces use hardware that rotates and swivels so that it never catches. Inside the boot, an OrthoLite sockliner lines the shoe to mold perfectly to your foot and give you an added layer of warmth and comfort.
---
Hunting Boots Buyer's Guide
Before purchasing a new pair of hunting boots, it is important to know what to look for. Use our handy buyer's guide below when you shop so that you can find the best boots for you.
What type of hunting (active vs. sedentary)
The first thing that you need to consider is what type of hunting will you be doing in the boots that you purchase. If you partake in an active kind of hunting that requires a lot of walking, hiking, and stalking of prey, then lightweight mountain boots with thick tread will be the best fit for you. However, if your type of hunting is sedentary, meaning you walk to one place and basically sit and wait for the rest of the day, then you may want to consider another type of boot. Make sure you take into consideration the type of hunting you do before you choose your boots.
Water resistance
One of the most important qualities of a hunting boot is its ability to resist or repel water. Being outdoors for long periods of time means that you can experience different kinds of weather. Just because you leave your house when it's sunny does not mean it won't rain while you are hiking in the mountains a few hours later. Preferably, you should look for boots that are waterproof. This is the highest level of water resistance as it does not allow any water to penetrate your boot.
Comfort
For a long day on your feet, you will need hunting boots that are comfortable. Comfort is a difficult thing to gauge when buying shoes. Even if you are able to try them on in the store, it is still hard to tell if they will be comfortable after ten miles in one day. If you are shopping for boots in person, make sure to really take the time to feel the boots on your feet. Try to pay attention to any small spots that rub, and how the boots bend and twist. If you are shopping online, the best way to learn about comfort is to read customer reviews.
Weight
Lastly, you will want to consider the weight that your hunting boots are. Even if you need boots that protect you from the extreme cold, you still don't want them to be incredibly heavy or bulky. If you are shopping in person, put the boots on and pick your feet up and down one at a time. Feel the weight of the boot pulling down on your foot while it is in the air. This will give you a good sense of whether the boot is too heavy for you or not. If you are shopping online, look carefully at the product description. It should disclose the weight of the boots.
Boot maintenance
Once you have chosen the hunting boots that best suit your needs, it is important that you know how to properly maintain and care for them. It is generally not a good idea to wear the boots for the first time on your hunting trip. It is best to break in your boots ahead of time. This means that you can just wear them around the house a bit at first. Then wear them to the store or to go shopping. In doing so, you will allow the boots to form to the shape of your foot specifically and the will be more comfortable to wear on your first all day hunting trip.
When you are returning home after your hunting trip, it is extremely important to properly care for your boots. Unlace the boots all the way down to the bottom when you remove them. Lay your boots outside to dry with the laces all the way undone and the tongue all the way out. This will allow your boots to properly dry and air out. Next, use a stiff bristled dry brush to brush off any caked on mud or debris that has dried onto your boot. Then, follow the care instructions that came with your boots on how to clean from there. You may be able to wipe with a damp cloth or you may have to use a specific type of cleaner.
Final Thoughts
Hunting boots are a staple of any serious hunter's gear. When shopping around for hunting boots, you may have the urge to buy cheap or discounted. This is not a good place to cut corners. Hunting boots are one of the places where you should spend the money to get a quality product that lasts for years with proper maintenance.