If you are an avid snowmobiler, you know that top notch equipment is a requirement – like having the best snowmobile boots.  Having quality equipment makes the difference between a fun, enjoyable experience and a cold, wet, miserable one. Of all the pieces of equipment necessary for snowmobiling, boots are one of the most important.  
Below, we have compiled a list of some of the best snowmobile boots on the market today. These boots are made from high quality materials, and will keep your feet warm in extremely cold weather on the trails or up in the backcountry.
In addition to our "best" list, we also discuss key features that you should look for in your snowmobile boots, as well as ways to take care of your boots so that they last as long as possible.
Here are our best snowmobile boots award winners:
Best Snowmobiling Boots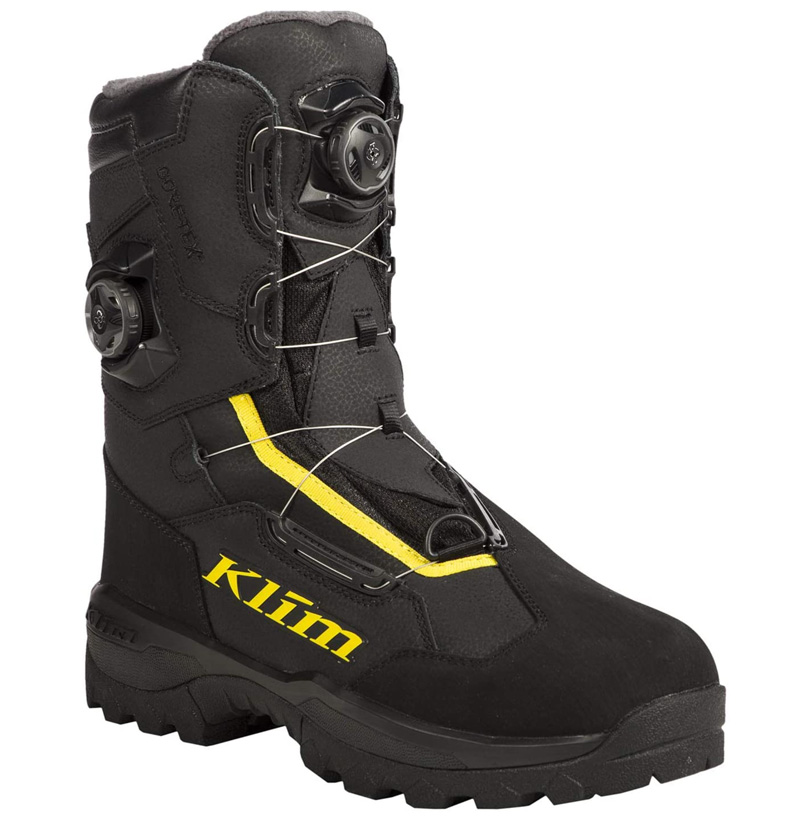 The Klim Adrenaline PRO GTX Boa Boot is a top of the line snowmobile boot that will ensure your feet stay safe and warm. These boots use Gore-Tex technology combined with 600 grams of 3M Thinsulate insulation to keep your feet as warm as possible in even the coldest conditions. The insulation layer is protected inside of the Gore-Tex membrane to ensure that it stays dry at all times. To keep out wetness, these boots are equipped with the Boa Dual Zone lacing system that overlaps for the most protection. Even the removable, internal liner is made of a moisture wicking Ortholite material to promote dryness. Externally, the boots are extra stiff for durability. While they are stiff, they do have a cutout in the ankle that allows for more forward flex movement. This gives you a wider range of motion during use.
| | |
| --- | --- |
| Temperature Rating | -40 degrees Fahrenheit |
| Insulation | 3M Thinsulate Insulation |
| Closure | Boa Dual Zone Lacing System |
| Upper | Leather and textile |
| Price | $369.99 |
Klim Adrenaline PRO GTX Boa Boot Specs
---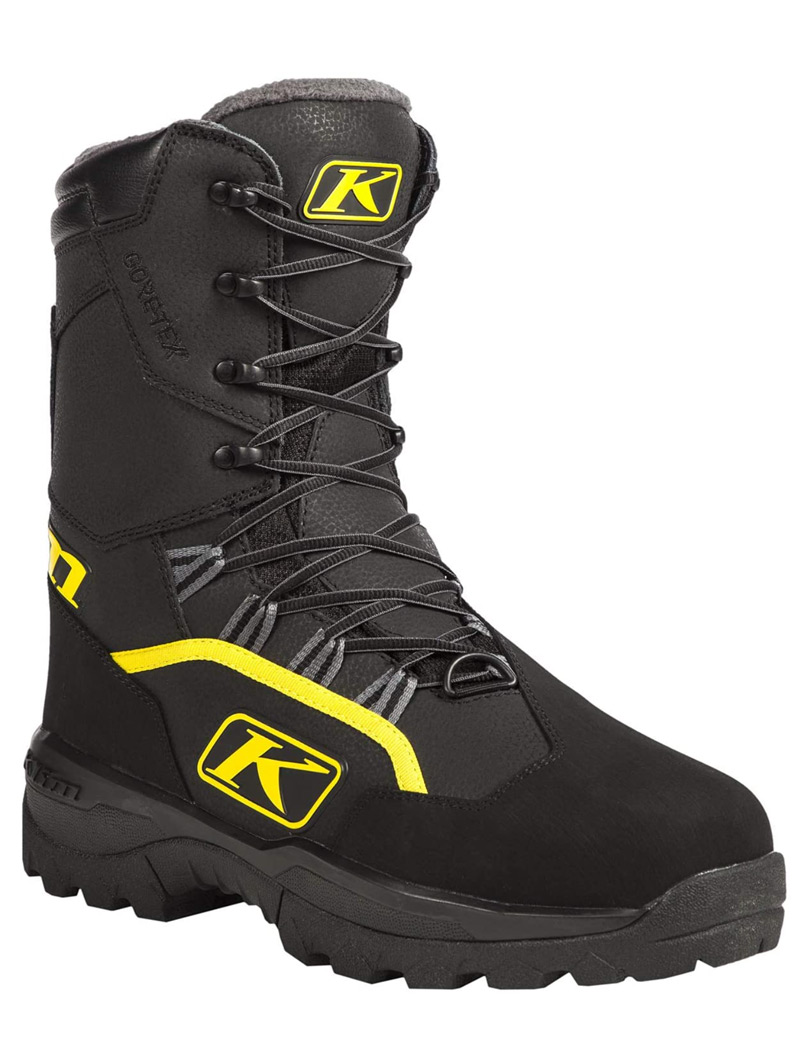 The Klim Adrenaline GTX Boot is the third generation of this style and type of boot. Not only do they keep your feet warm in extreme cold, but they give you functionality as well. These boots have a stiff and durable sole with aggressive tread that keeps your feet in place, even at high speeds. The 600 grams of 3M Thinsulate insulation are encased in a Gore-Tex membrane. This keeps the insulation dry no matter what so that it is always effective. The insole is removable so that it can be cleaned or dried if necessary. It is made from a moisture wicking material that is both comfortable and useful. There is also a layer of internal cushioning for added comfort during a long day of use. If you are a half size, size up. This boot comes with an insole insert that gives you the ability to have a half size fit.
| | |
| --- | --- |
| Temperature Rating | -40 degrees Fahrenheit |
| Insulation | 3M Thinsulate Insulation |
| Closure | Speed Lace System |
| Upper | Leather and textile |
| Price | $259.99 |
---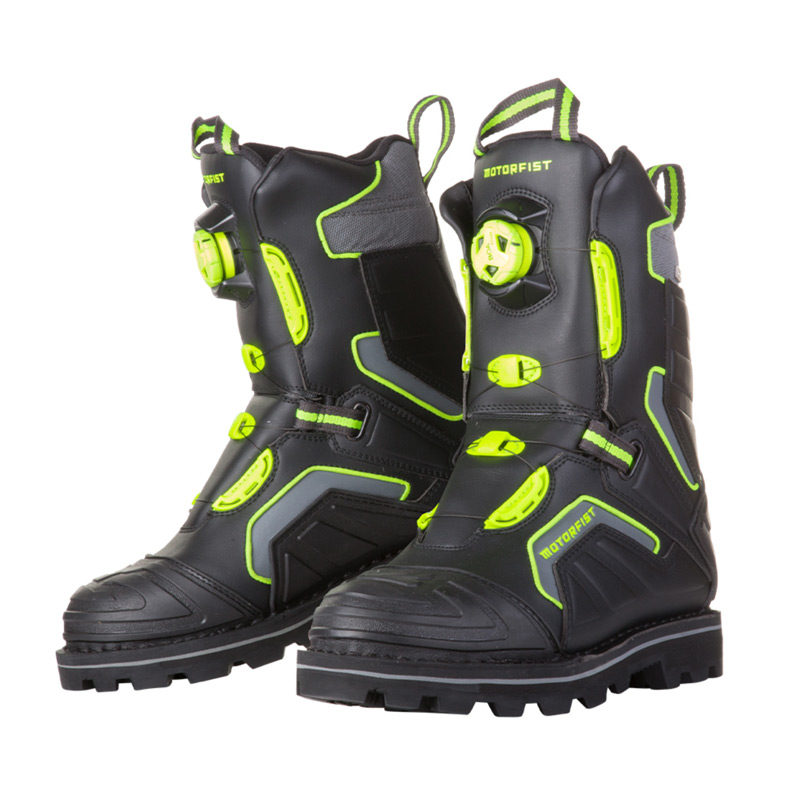 Next on our list are the Stomper BOA Boots from Motorfist. These boots are insulated with 800 grams of PrimaLoft Gold Insulation. In addition to providing protection from the extreme cold, this specific insulation is also designed with a non-slip grip to keep your feet in place no matter what. To make your time wearing these boots more comfortable, there is also an added Aerogel footbed insulation layer. To protect the insulation from moisture, it is encased in an eVent waterproof breathable membrane. There is also an additional insole that is removable so that you can clean it when necessary. Externally, these boots have a welted rubber sole as well as rubber toe and heel caps for added durability. Lastly, the Motorfist Stomper Boots are equipped with a Boa H3 Coiler High Power Lace System to keep these boots securely on your feet at all times.
| | |
| --- | --- |
| Temperature Rating | -68 degrees Fahrenheit |
| Insulation | PrimaLoft Gold Insulation |
| Closure | Boa H3 Coiler High Power Lace System |
| Upper | Nylon and Leather |
| Price | $308.95 |
Motorfist Stomper BOA Boot Specs
---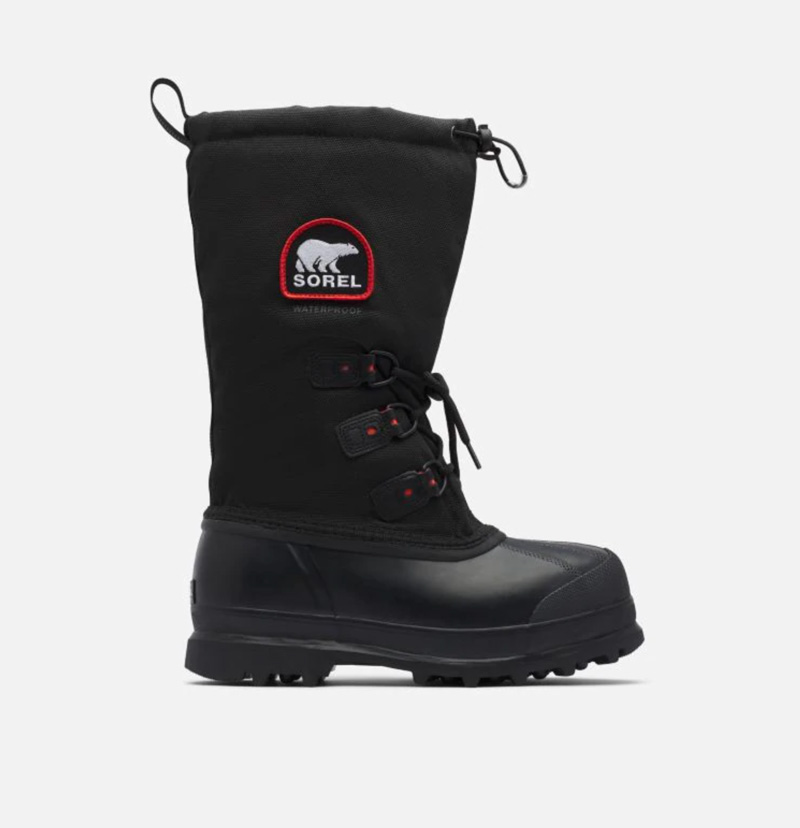 The Glacier XT Boot from Sorel is next on our list. While these boots aren't made specifically for snowmobiling, they work well when used as such. These boots are lined with 13 mm ThermoPlus felt inner with Omni-Heat reflective lining. These interior layers are protected by a PU coated synthetic textile outer layer that is resistant to both water and wind. Additionally, a drawstring and barrel lock closure at the top of each boot keep snow and water from entering through the opening. The outsole of the Sorel Glacier XT Boots is made from a vulcanized rubber shell. This shell is handcrafted and completely waterproof. It is also made with thick tread that grips many different surfaces. The midsole includes a 2.5 mm bonded felt frost plug as well as a removable 13 mm Sorel Meltdown layer.
| | |
| --- | --- |
| Temperature Rating | 0 degrees Fahrenheit |
| Insulation | 13 mm ThermoPlus felt with Omni-Heat Reflective Lining |
| Closure | Drawstring with Barrel Lock |
| Upper | PU coated synthetic textile |
| Price | $180 |
Sorel Glacier XT Boot Specs
---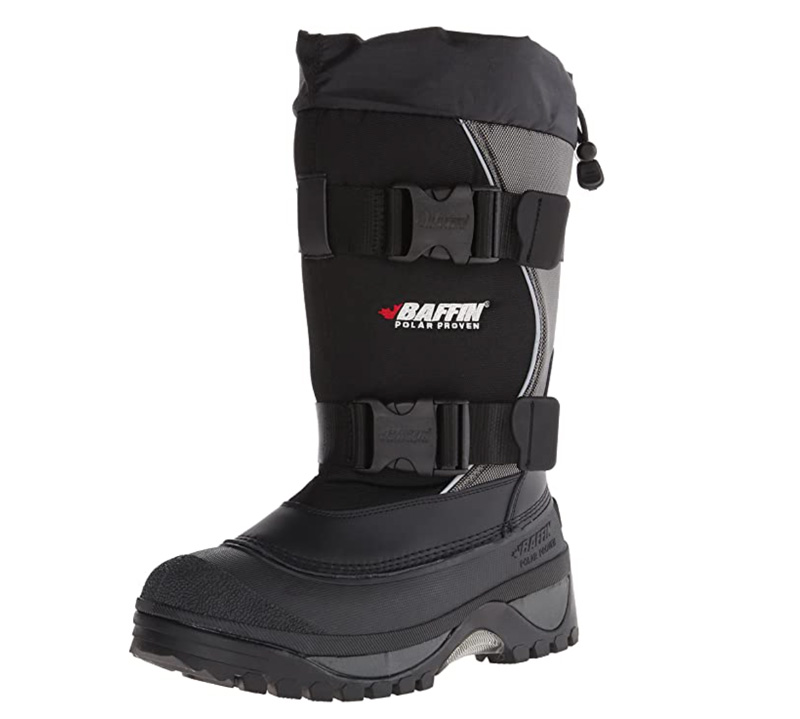 The Baffin Wolf Snowmobile Boot is a great budget-friendly option for a snowmobile boot. While this boot is more affordable than others on our list, they still have many of the same high quality features. The outer layer of these boots is made from double weave, 900 Denier nylon. This material keeps cold and wetness away from your feet. There is even a locking snow collar around the top of each boot to keep out flying snow. The double buckle system is easily adjustable to fit your ankles and feet perfectly. Moving towards the interior of the boot, you will find a removable liner as well as a Baffin, multi-layer inner boot system for warmth. This system protects your feet at temperatures as low as -40 degrees Fahrenheit. As far as the sole of the boot goes, it has three main layers: an Arctic Rubber Shell, EVA Midsole, and a Polar Rubber Outsole. These layers work together to give your feet as much protection as possible.
| | |
| --- | --- |
| Temperature Rating | -40 degrees Fahrenheit |
| Insulation | Baffin multi-layer system |
| Closure | Double adjustable buckles |
| Upper | Double weave, 900 Denier nylon |
| Price | $186 |
Baffin Wolf Boot Specs
---
Key Features to Look For in a Quality Snow Boot
When it comes time to shop for your new snowmobile boots, it's helpful to have some key features to look for. Make sure you consider all of the following categories when purchasing snowmobile boots.
Water Protection
It is extremely important that the boots you choose have some sort of protection from water. Basically, there are two main types of water protection. Water resistant materials slow the penetration of water. Water proof materials completely protect against the penetration of water. Ideally, you want a boot that is water proof, however they tend to be more expensive.
Insulation
Insulation is one of the most important qualities of a snowmobile boot. This is not an area where you should cut corners. Cheap insulation does not effectively keep your feet warm. The best case scenario is that your snowmobile boot use a thin insulation that keeps you warm but does not add a lot of unnecessary bulk.
Lacing/BOA
There are two main types of closure for snowmobile boots: lacing or a BOA closure system. The closure that you choose for your boots needs to be easily adjustable so that you can make it as tight to your leg as possible. This is where the benefits of a BOA closure system come in. This prevents snow and water from entering through the openings in your boots.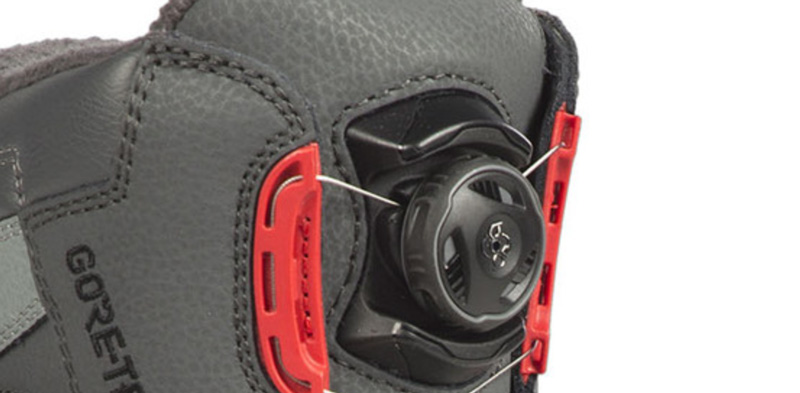 Sole
The sole of your snowmobile boot needs to be thick and sturdy, but also flexible enough to allow for comfortable movement. Also, you need to consider the tread that is on the sole. In general, the thicker the tread, the better. Thick and chunky tread gives you more grip on uneven and slippery surfaces, ensuring that you keep your footing sturdy at all times.
Height
Boots come in various different height options. When it comes to snowmobile boots, a medium height is generally considered best. Low boots allow too much snow into the top opening, while boots that are very tall are restrictive when it comes to movement. Tall boots also have more of a chance of getting caught on machinery from your snowmobile.
Breathability
As important as it is to keep moisture from getting inside of your boots, it is also imperative that moisture is able to escape as well. Keeping your feet warm means that they are going to sweat eventually. Having moisture wicking and breathable materials in the lining around your feet helps to keep you and your feet comfortable and dry.
Removable Lining
It might not seem like the most important feature in a snowmobile boot, but it is super helpful and convenient to have a boot liner that is removable. No matter how great your boots are, moisture will get inside at some point or your feet will sweat. Either way, mold and mildew can grow, and it can be difficult to get that smell out once it starts. Having a removable liner means that you can remove and wash the inside of your boot every time to keep it fresh.
---
Tips for Getting the Most Out of Your Best Snowmobile Boots
If you want your snowmobile boots to last for years, it is necessary that you take good care of them. Additionally, if you want your boots to be as effective as possible, you will need to wear them with some other important gear. Here are some tips for getting the most out of your snowmobile boots.
Additional Gear
In order for your snowmobile boots to be as effective as possible, they need to be paired with other high quality cold weather gear.  First, wearing the right type of socks is vital to warm feet, no matter how insulated your boots are. Socks that are made of wool or synthetic materials are best for wearing in snowmobile boots.  Make sure the pair of socks that you choose fits snugly on your foot and doesn't have a lot of space for movement or sliding around. Also, make sure the socks are not too thick or bulky.  Your feet will be kept warm mainly from the insulation of your boots, so the socks you choose do not need to add much extra warmth. 
Also, to make sure your boots are effective, you will need to have the correct type of snowmobile pants. The right kind of snowmobile pants will need to be fitted enough at the bottom so that they can easily tuck into the top of your boots. Having pants that tuck in to your boots is vital as it helps keep the cold and snow away from your feet and ankles.
Proper Cleaning and Care
If you are spending money on high quality snowmobile boots, you will want them to last for as long as possible. With proper care and maintenance, your snowmobile boots will last for years. Below are tips for taking appropriate care of your boots.
As soon as you are done wearing your boots for the day, remove them and wipe them down with a clean, damp cloth. Remove any excess snow, salt, and dirt so that they do not dry and harden on the exterior of your boot.
Next, unlace or unbuckle your boots completely and take out the removable liner, if your boots have one. Wash this liner, following proper laundering instructions, after each use.
Once the liner is removed and laces are opened, pull the opening of your boot open as far as it can possibly go. This will allow the inside and outside to dry out evenly and quickly so that your boots will not develop any mold or mildew.
When your boots are dry, pull them back together and re-lace them. Store them in a cool, dry place with boot inserts to keep them standing up properly and not sagging over.
A few times a year, or at least at the end of each season, use a cleaning solution to properly clean and treat the outside material of your boots. This will keep the material cleaned and properly conditioned in the off season so that they are like new when it comes time to use them again.
Final Thoughts on our Best Snowmobile Boots Guide…
When it comes to premium, high quality snowmobile boots there really isn't a player in the game that can touch the Klim snowmobile riding boots. Sure, if you hit up the trails a couple times a year then the investment in an expensive pair of Klim boots probably isn't needed. If you head into the backcountry often and/or spend a ton of time cruising and bruising the trials then you should consider the investment in a Klim pair of boots.