Snowmobiling is a sport that requires a handful of solid safety gear. One of the most important pieces of safety gear is your goggles. If you wear a helmet that does not include a face shield, you will definitely need a high quality pair of snowmobile goggles. These goggles not only protect your eyes, but they help you see well in unclear environments. In this article we'll cover all the best snowmobile goggles and provide multiple options for you to consider.
Best Snowmobile Goggle Brands
The market is inundated with companies and brands that make snowmobile goggles. Some companies make a wide array of products while others focus their efforts on specifically gear for snowmobiling. Typically, the best brands are those that only create products for a niche market. When looking for snowmobile gear, whether it is goggles or not, look for a company that specializes in snow gear only. Some of the best brands we have found for snowmobile goggles specifically are
The Best Snowmobile Goggle Award Winners
Best Snowmobile Goggles Guide
Below is our list of the best snowmobile goggles that are currently on the market. The goggles on this list are high quality goggles that will protect your eyes and be a great addition to your safety gear.
The Klim Edge goggle could be considered the top-of-the-line option from Klim. This goggle has a frameless design so that it provides a sleeker and less bulky fit than typical snowmobile goggles. These frameless goggles have a very wide field of view as there is no bulky frame to impede vision. This design helps to increase awareness of your surroundings and reduce visual fatigue as well. The no-frame design does not mean these goggles are not safe, however. The Klim Edge Goggle has an impact rated lens that passes typical safety standards. It also has a UV 400 protective rating to protect your eyes from the sun as well as impact.
The dual lens system is designed with a foam filtered vent to prevent fogging when there are changes in temperature or elevation. This feature is added in addition to a supplemental anti-fog treatment to the lens. To keep these goggles firmly in place, 50mm of silicone lines the goggle strap and prevents slipping. As with other Klim goggles, the Edge is equipped with Slide-Lock technology to quickly release and change lens tints when needed. Your purchase of the Klim Edge goggles comes with a protective carrying and storage case.
SPECS
| | |
| --- | --- |
| Lens Type: | Polycarbonate outer, Cellulose inner |
| Anti-Fog: | Yes |
| Polarized: | Polarized option in Focus Black Smoke |
| Price: | Range from $149.99 – $169.99 |
---
The Sinister X6 Snow Goggle has undergone constant upgrades and refinements since its first generation creation in 2006. The X6 version has the largest field of view of any 509 goggles so that you can see clearly in any direction. This wide field of vision also allows you to have great peripheral vision without having to turn your head. Anti-fog and anti-scratch coatings keep your field of vision clear in any environment. If you have a prescription for eye glasses that you need to wear to safely snowmobile, these are great goggles for you. They have an over the glasses construction so that they fit safely and comfortably over your eyeglasses. The lenses on the Sinister X6 Goggles are interchangeable, so you can purchase different colors and tints based on the different environments in which you use them. The lenses can be changed quickly and easily when the time comes.
SPECS
| | |
| --- | --- |
| Lens Type: | Dual Polycarbonate Lens |
| Anti-Fog: | Yes |
| Polarized: | Polarized options in Smoke and Yellow tints |
| Price: | $119.95 |
---
Also from 509 are the Aviator 2.0 Goggles. These are the updated version from the original and classic Aviator goggles. These goggles are made with a dual polycarbonate lens system where the inner lens is treated with an anti-fog coating. With a toric lens shape, these goggles allow you to have a maximum field of vision when you are wearing them. Long and wide, these goggles protect your eyes and face well, and can even fit comfortably over prescription glasses if necessary. If you are interested in changing out your lenses, the Aviator 2.0 Goggles are equipped with a 5MAG magnetic lens change system. This system makes changing lenses quick and painless.
SPECS
| | |
| --- | --- |
| Lens Type: | Dual Polycarbonate Lens |
| Anti-Fog: | Yes |
| Polarized: | Polarized option in Yellow tint |
| Price: | $159.95 |
---
The Oculus Goggle from Klim is designed specifically to enhance your riding experience. These goggles address some common problems that snowmobilers deal with frequently. To combat changing light conditions, these goggles are equipped with Slide-Lock technology. This allows you to interchange lenses quickly and easily. So, when you find yourself suddenly changing from bright light to low light conditions, a new lens slides in and you're ready to go. High light and low light goggles are included with your purchase of the Klim Oculus goggles. In addition to being easy to interchange, the lenses are also made with anti-fog technology that gives you a great deal of air circulation to combat moisture. The shape of the lenses are spherical to increase peripheral vision and give you high quality clarity, even in hard-to-see environments.
SPECS
| | |
| --- | --- |
| Lens Type: | Polycarbonate outer lens, CP internal lens |
| Anti-Fog: | Yes |
| Polarized: | Polarized option in Dissent Orange Brown |
| Price: | $143.99 to 179.99 |
---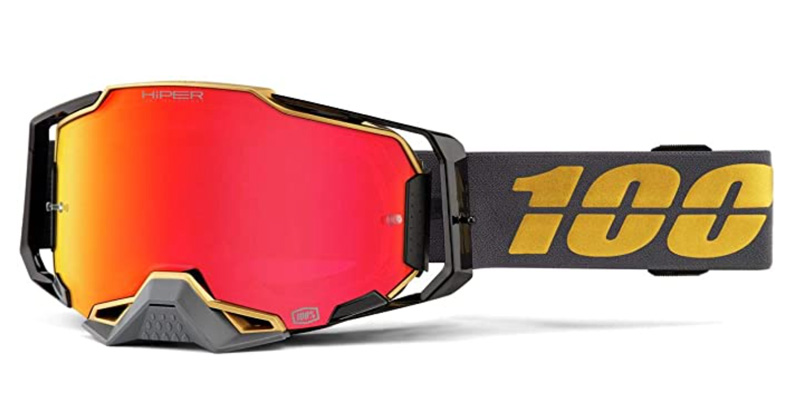 The last on our list is the Armega Motocross and Mountain Biking Goggles from 100%. While these goggles were not made specifically for snow sports, they are made very similarly and are a great option for snowmobilers. The lenses on these goggles are injection molded. This process reduces the distortion that can happen at times with polyurethane goggles while also providing resistance to impact as well. The oversized lens of these goggles also gives you a large field of vision.
100% offers a wide array of different lenses and tints for their Armega Goggles, so you can find the best fit for your typical type of light environment. Purchase multiple lenses to perform quick lens changes when moving from areas of bright to dim lighting. For comfort, the lenses are lined with triple-layer foam that comes into contact with your face and have a wide adjustment strap that goes around the back of our head. These features allow for all day wear without being uncomfortable or having to make constant adjustments.
Lens Type: Injection Molded, 2mm.
Anti-Fog: Yes
Polarized: Polarized option in Focus Black Smoke
Price: Range from $90 – $120
---
Key Features to Look For in a Solid Pair of Snowmobile Goggles
If you are new to shopping for snowmobile goggles, it will be helpful to have an idea of some necessary features your goggles should have. Below is a list of key features to look for when shopping for snowmobile goggles. Before choosing which goggle is right for you, consider the features on this list to see which are most important to you. Every goggle will not possess every single quality on this list. You need to be able to decide which features are important to you, and which you can do without.
Lens Tint
One of the first choices you will make when considering snowmobile goggles is what lens tint to choose. Most goggles offer many different tint options and an easy way to click them in or out to interchange choices. Choosing a lens tint is more than just picking your favorite color, however. Different color lens tints are designed to handle different types of light conditions. Peruse the various lens options for the snowmobile goggles that you are interested in. Information will be provided on whether the tint you want is for sunny days, cloudy weather, etc. Make your decision based off of the weather that you typically snowmobile in.
Fogging
Having fog protection in your snowmobile goggles is a must. First and foremost, your goggles are used as a safety precaution. They are meant to protect your eyes when traveling at high speeds, and help you see in unclear environments. If the lenses are constantly fogging, it makes things less safe for you instead of more safe. Look for a snowmobile goggle that has anti-fog technology on its lenses. This can be a treatment on the lens itself, or a system that is built in to reduce moisture and increase airflow. Many snowmobile goggles have a double lens system with the internal lens being the one with the anti-fog treatment.
Glare Protection
If you are an avid snowmobiler, you know that the glare off of the snow can be completely blinding at times. Having goggles with glare protection helps to avoid moments of blindness from the sun. If you tend to use your goggles during times of bright sunshine, then glare protection may interest you. Look for lens options that are polarized for protection from the sun's glare.
UV Light Protection
Another type of protection that goggles can bring are UV protection. Similar to sunglasses, snowmobile goggle lenses can be made to protect your eyes against UV light. No matter the intensity of the sunlight you are in, the UV rays can reach your eyes. Consider purchasing lenses with UV protection no matter the type of light conditions your snowmobile in.
Adjustability
Since snowmobile goggles typically do not come in different sizes, they will need to be adjusted to properly fit your face. In order to achieve the correct fit, you want to look for goggles that have straps that can be pulled easily to adjust. These straps should be wide and thick so that they stay put on your head where you want them.
Scratch Resistance
While not a necessary feature, having snowmobile lenses with scratch resistance technology is helpful. Snow gear is typically used roughly, and goggles are frequently tossed around. This leaves them susceptible to scratching. Having lenses with scratch resistance technology allows you to store your goggles a little more freely without worrying about them scratching easily.
Tips for Getting the Most Out of Your Snowmobile Goggles
Wear and adjust properly
One of the best things you can do to make sure you get the most out of your goggles is to wear them and adjust them properly. Every single time you wear your goggles, take the time to fit them correctly to your face. They should be snug, but not too tight, and comfortable enough to wear for long periods of time without adjustment.
Also make sure you adjust your goggles in the proper way each time. Use the adjustment straps and buckles each time you put your goggles on and take them off. Tugging your goggles off of your face without loosening them can stretch out the elastic improperly and negatively affect the fit over time.
Storage
Some snowmobile goggles come with a storage case when you purchase them. This is the best way to store your goggles so that they don't get scratched or damaged when not in use. If you purchase goggles that do not come with a case, you may want to consider purchasing one. If you are not interested in purchasing an additional case, make sure you store your goggles inside a fabric bag so that they are protected from scratching. It may be smart to store them in a separate place from your other equipment so that they don't roll around at the bottom of a large bag with heavy equipment on top.
Cleaning and care
Proper cleaning and care can extend the lifespan of your goggles by years. When using snowmobile goggles for a long period of time, or even an entire day, snow and ice can get caked onto the frame or straps. It is vital that you clear the attached snow and ice from your goggles every single time you use them. Once the snow and ice and debris are cleared from your goggles, you can lay them in a sunny spot to dry. Removing anything excess will ensure your goggles will dry quickly and evenly, leaving no mildew or mold behind. Once your goggles are completely dry, you can use a regular eyeglass cleaner to remove dirt or fingerprints or streaks from your goggles. When they are completely clean, place them carefully in a storage case and keep until it is time to use them next.