Are hunting supplements really a thing? What's the difference between supplements for hunters and normal workout supplements? Those are probably questions you're asking yourself as you digest this best hunting supplements guide (but really it's anything outdoors).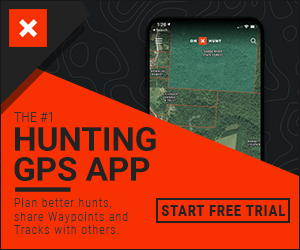 If you've ever used supplements in the past for working out, you might be wondering why you'd want to switch to hunting supplements the next time you head out hiking to check your trail cameras. Especially, when there's already a plethora of reputable fitness supplement brands on the market.
Why Hunting and outdoor supplements is even a thing…
Most people like associating with like-minded individuals. So, if you like working out and hunting, and are already using fitness supplements why wouldn't you be intrigued to consume supplements from a company that supports the hunting community?
Makes sense right?
It sure does. Unless, quality is lacking.
I generally believe that bad quality usually flushes out bad companies – naturally. It just doesn't take long for consumers (like you and I) to figure out a product is no good and to then move on to something better.
So, when I see a hunting performance supplement company like MTN OPS step into the game and then stay in the game, it brings me quality assurance.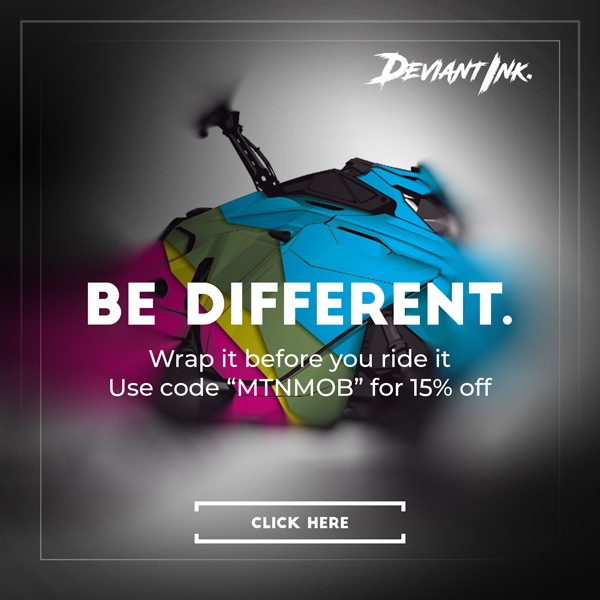 Now, I'm not completely naive that most of the successful local supplement brands here (Utah and surrounding states) are probably getting their supplement blends made in the same facilities – therefore…the end products that you and I consume are relatively pretty darn similar. I've never been to any of these facilities and I am not afraid to admit that I could also be wrong in this assumption.
But, nonetheless, the decision to consume products is up to you and I.
Your decision might come about in a similar fashion as mine. For starters, it has to pass the taste test. Seriously, I don't care how much better you try and get me to think your supplement is if it tastes like crap – game over.
Nobody has time for crappy-tasting supplements.
So, the supplement needs to simply taste good. Then, the supplement needs to do the thing it's marketed to do. If it's pre-workout, then, get me jazzed up for the workout. If it's an energy and focus blend – keeping me feeling awake and alert at work. Pretty simple.
If, I have multiple options that do the above, and one of them aligns more with my style of life – then naturally, I'll support that product or company.
That's where MTN OPS comes in… and other outdoor / hunting supplements. I'll try my best to keep an open opinion about the various hunting supplement companies. There's not many really, but I've only ever consumed MTN OPS supplements and so I can only give my personal opinion on those. Obviously, I've been an extremely happy customer to have not checked out other outdoor supplement brands.
MTN OPS vs Wilderness Athlete – The Quest For The Best Hunting Supplements
MTN OPS and Wilderness Athlete have a pretty similar product lineup for the outdoor athlete. Various proteins, energy mixes, weight-loss, vitamins, gut health, and more(I did notice that Wilderness Athlete has a few supplements for dogs). I would dare say that most of their product lineup taste somewhat similar.
Giving back…
I'm not familiar with any significant causes that Wilderness Athlete donates to. If they do, they do a pretty poor job of showing which organizations/causes they support and how others can help out.
MTN OPS on the other hand has two really cool causes that they support.
The first one is their Conquer Hunger program:
The second one is their contributions to the 2% for conservation organization where they donate a portion of all sales and their time to help manage and conserve fish and wildlife.
Overall Brand Interest
The Google Trends graph below is showing the popularity of branded search terms for both MTN OPS and Wilderness Athlete. It is clear over the past few years MTN OPS has really taken off and grown it's brand awareness. (MTN OPS is blue)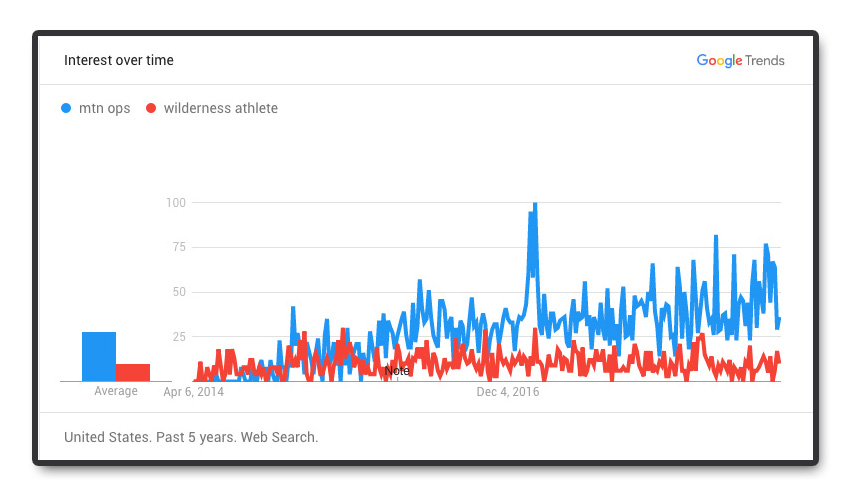 Here are a few more graphs from SEMrush that give us a pretty good idea of the overall online popularity of MTN OPS and Wilderness Athlete: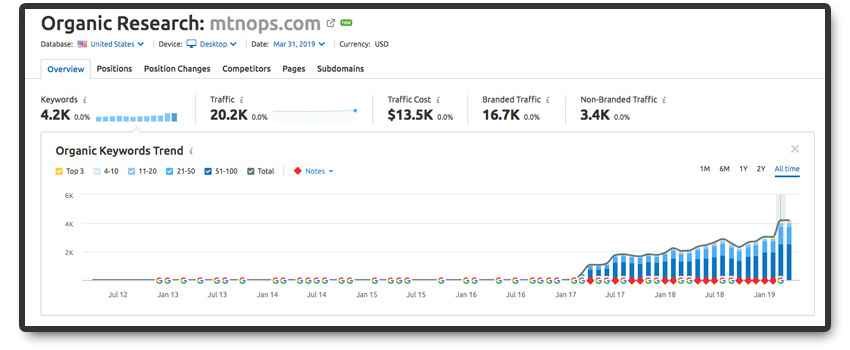 ---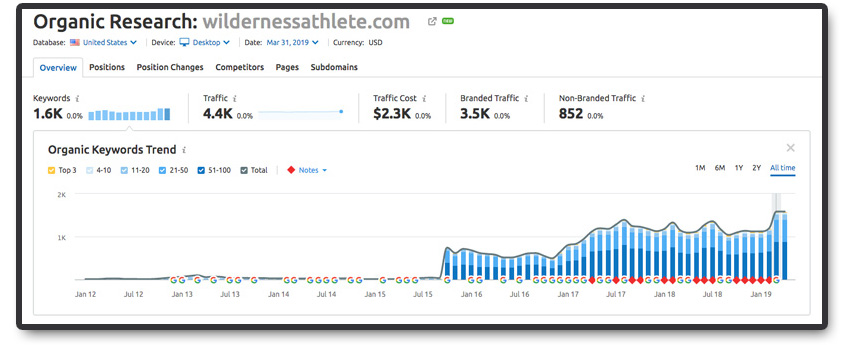 These graphs show how many keywords or search terms that each website ranks for. The idea here is that, the more search terms you rank for, the more traffic you get to your website, thus increasing your brand visibility
As you can see, MTN OPS ranks for roughly 4,200 keywords while Wilderness Athlete ranks for 1,600. The difference in website traffic is pretty astounding – MTN OPS shows roughly 20,200 and Wilderness Athlete 4,400 in estimated monthly search traffic (or number of visits to their websites)
Remember, these are estimates (SEMrush does a pretty good job) but the relativity is what is important. MTN OPS has just generated a TON more interest online.
Hopefully this has given you a few insights into how both of these companies are similar and different. Going forward, I'll spend most of my time talking about MTN OPS because that's what I personally consume.
Let's get started:
---
---
MTN OPS Supplements Review
I'll go through the major supplement categories of MTNOPS products that I consume on a regular basis. These major categories include:
Energy
Protein
Recovery/Sleep
I'll share my personal feedback and experience using the products as well as sprinkle in some of the science-based lingo from the MTNOPS website.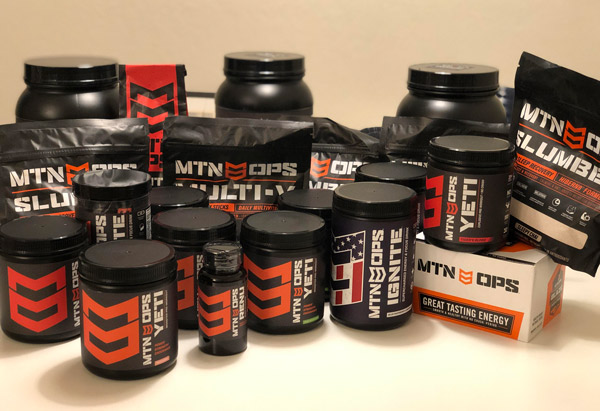 Energy Blend: Best Energy Supplements For Hunting/Hunters
MTN OPS has three main energy supplements for hunters and outdoorsmen/women:
What's the difference between MTN OPS Yeti, Ignite, and Energy Shots?
Yeti is similar to your traditional pre-workout energy mix – full of sustained energy, creatine, nitric/amino acids, etc.
Ignite is similar to Yeti in that it increases energy, but I like to think of it as a non-gym energy and focus supplement. Many folks do use ignite for the gym, but I prefer to use it for more of my outdoor activities and in the office as it features an "ignite brain blend" that improves cognitive function and elevates mental acuteness and clarity.
Blaze Energy Shots is like your 5-hour energy quick fix. I personally don't like the taste of it (nor any of those small-bottle syrup-tasting energy blasts). I have friends who like the taste of it so I often bring them goodies when we ride sleds in the backcountry: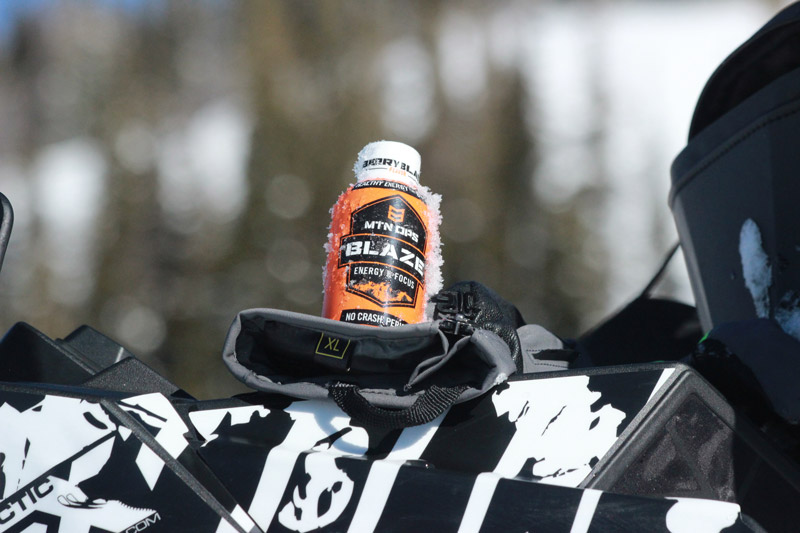 Pre-Workout: MTNOPS Yeti Review
Like I mentioned above, MTN OPS Yeti is a pre-workout energy supplement to help boost your workouts so that you can conquer outside – in the outdoors. Yeti packs a sustained energy / no crash supplement blend. This isn't just all talk or marketing lingo. Before MTN OPS Yeti, I would take C4 pre-workout. I really liked C4, it would pack a punch real quick, but then drop you like it's hot – with an energy crash. This I didn't like so much.
So when you read the no-crash lingo on the Yeti product – from my own experience, this has been the case.
Since you already know I'm a big taste guy… I've definitely put Yeti through the test and it has passed. Matter of fact, the MTNOPS Yeti Green Apple flavor tastes like the purest, most finest, nectar from the supplement gods.
Seriously, if you are somewhat interested in testing out the MTNOPS outdoor supplements, and not really sure if you want to pull the trigger…WHATEVER YOU DO, DON'T PURCHASE GREEN APPLE YETI UNLESS YOU ARE READY TO FULL SEND IT. I'm telling you, this stuff is freaking fantastic.
Here are the supplement facts from the label: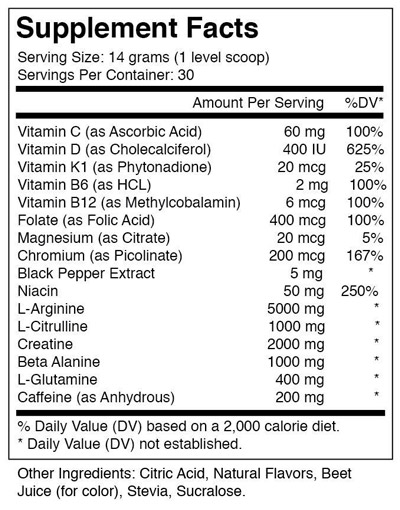 Yeti also comes in trail packs. These are super convenient if you're on the go or in the mountains. Yes, I said in the mountains. I'll pound some Yeti if I'm looking for some serious energy boost in the mountains…heading out on a hunt/hike and/or snowmobiling the backcountry.
When you're sledding in the backcountry and you get the midday blues after you've dug yourself out and your buddies a half-dozen times, that Green Apple Yeti is pure gold.
I'll usually pack both Yeti and MTNOPS Ignite trail packs when I head out. Let's chat about the Ignite product and how it's different from Yeti.
Supercharged Energy+Focus: MTNOPS Ignite Review
Like I mentioned above, I typically don't use the Ignite product in the gym. I'll consume MTNOPS Ignite as a pick-me-up at work (I'm a sipper), or, while I'm out in the backcountry.
If you want more friends, share some green apple Ignite with someone during a long hike or after getting someone unstuck while snowmobiling… once they taste that green apple magic they will become your best friend.
With the "ignite brain blend" (improves cognitive function), I've found it to definitely help my awareness and brain function. This comes in handy about mid-afternoon when my brain wants to stop doing brain things. Ignite wakes up the brain and helps enhance clarity and function.
Hot Ignite Blend
MTNOPS has come out with a hot ignite blend. Picture this as an energized cup of hot chocolate. I thought this was weird at first because I was used to all energy supplements from MTNOPS being a cold beverage and the night time sleep aids being a warm beverage (more on this below) but I have to say that they nailed it with the flavor/taste – yet again. I have noticed that the hot Ignite blend takes the longest to fully mix in to get that smooth liquid texture. Most MTNOPS products mix super well and quickly – the hot ignite just takes a bit longer.
I still prefer the cold energy drinks which mostly comes down to convenience… simply dump the powder into a bottle of water and shake – compared to heating up water and stirring in the hot ignite blend until smooth.
I image MTNOPS came out with the hot blend for those early morning hunts when the chill is in the air and a cup of hot cocoa or coffee hits the spot. The hot blend Ignite seems to be a good fit for those occasions.
Energy Shots: MTNOPS Blaze Review
Like I mentioned above, I can't stand the taste of these 5-hour energy type "syrups". It doesn't matter what brand is on the bottle. I oftentimes like to sip my drinks. It's hard to sip from these little bottles plus I get the shakes every time I try them. 🙂
I do understand that there are people in this world that do like the taste and consistency of these little devils. The bottles that I have are still branded with Blaze but it appears that MTNOPS might be moving away from that and just calling them Energy Shots. (they have another product called Blaze that is more of a fat-burner and comes in pill form)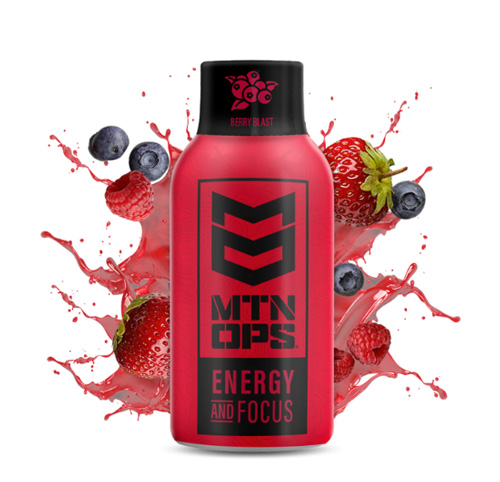 Where I'm not a fan of these energy shot drinks, I'm not going to pretend I know what I'm talking about (outside of the taste for me). So, here are a few reviews from their website: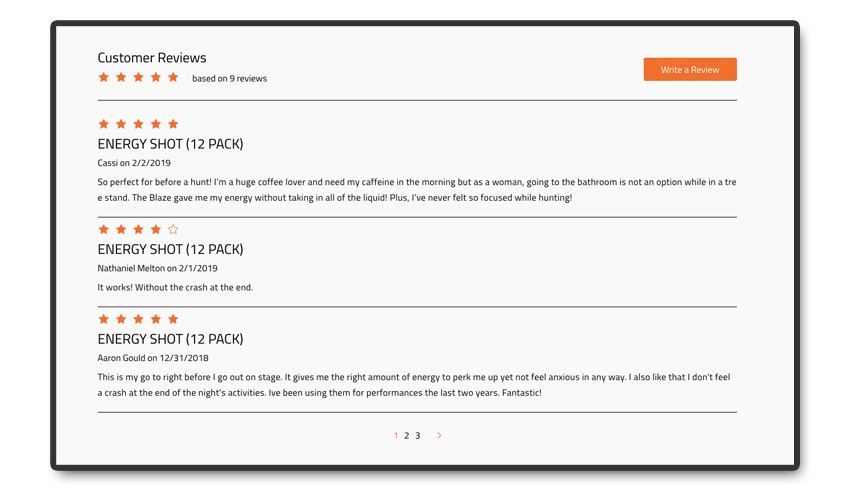 ---
---
Protein Blend: Best Protein Supplements For Hunting
At the time of this article, MTNOPS has two products that make great protein supplementation for outdoor athletes – AMMO & Magnum. When it comes to protein, I'm extremely strict when it comes to my taste rule. It's of my opinion that if you develop a protein blend and it tastes like crap, you are a soulless company.
So, you can be sure that the protein I consume tastes good.
Both AMMO and Magnum pass the taste test. Full transparency, I've only ever had the chocolate/chocolate malt flavors. I can't confirm the taste of the other flavors but I would imagine they taste pretty similar to the labeled flavor.
MTNOPS AMMO Protein
MTN OPS AMMO is their meal replacement protein blend. I typically pound a chocolate AMMO shake on my way to work in the morning and it usually holds me over until lunch.
The AMMO protein blend provides you with all the nutrients of a very well balanced meal including 19 grams of protein per serving and 4.5 servings of real vegetables and fruits as well as your daily recommended dose of fiber and healthy fats.
AMMO accelerates fat loss with the help of the essential omega fatty acid flaxseed.
Since AMMO contains whole foods, it requires to be refrigerated after opening.
MTNOPS Magnum Protein
MTNOPS Magnum is loaded with 23 grams of cold processed whey protein(cold process is better). This helps flood your muscles and increase absorption while promoting lean muscle growth. In addition to a heaping amount of protein, each scoop of MAGNUM adds 5g of BCAAs and 1.5g or L-Glutamine to aid in post workout recovery and soreness.
I'll typically pound about a half a chocolate shake before I hit the gym at lunch time, then I'll polish the rest of it off after my noon workout. That system seems to work for me and most days can hold me over until dinner when I get home from work.
Sleep Recovery Blend: Best Night-Time Recovery Aid
MTNOPS Slumber Review
MTN OPS Slumber… one of my favorite supplements from MTN OPS. If you're like me, you're on the go all day long. Between shuffling work, family, side hustles and projects, and hobbies… physically and mentally we're on the go. Sometimes my brain just doesn't want to shut off at night and I need to pull the Slumber trigger to crank things down.
Here's how I use MTN OPS Slumber:
About 20 or 30 minutes before I'm ready to simmer down, I'll mix up a hot cup of Slumber. I use milk. I heat the milk up, then pour a serving of Slumber in the milk and stir with a whisk. Slumber can take a little longer to mix in so I prefer using a whisk over a spoon or fork.
My favorite flavor is Sleepy Chai then the Sleepy Cocoa. Sleepy Chai is delicious and the taste itself could put you asleep… 🙂 + it's my wife's favorite night-time drink EVER.
Do you wake up feeling groggy?
I don't wake up feeling groggy like I would with NyQuil or ZzzQuil. I'm sure if you drank slumber at 1AM and needed to wake up at 6AM you'd probably feel some grogginess. But, if you're already planning on a pretty normal night's sleep and just need some help actually getting to sleep – MTN OPS Slumber is your ticket.
+ SLUMBER Bonus…
MTN OPS SLUMBER now comes in trail packs! No more scooping from the bag into zip locks anymore for me when I'm traveling! If you're out in the middle of the woods with your spike camp these trail packs would come in handy for sure.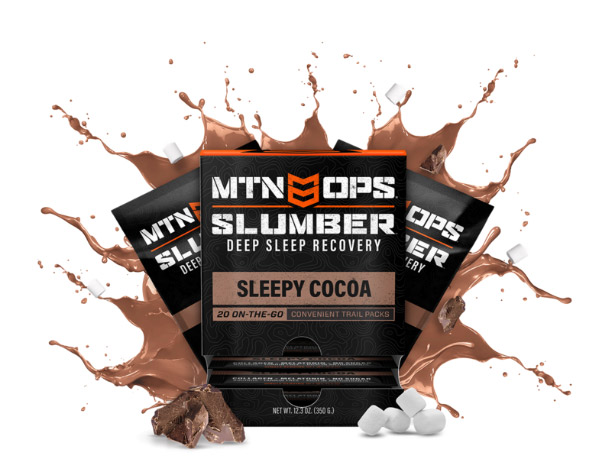 So…What Are My Favorite MTNOPS Supplements?
By now you should know that the green apple MTN OPS Yeti is my favorite outdoor/hunting supplement from MTN OPS. The sleepy chai SLUMBER comes in hot at 2nd place.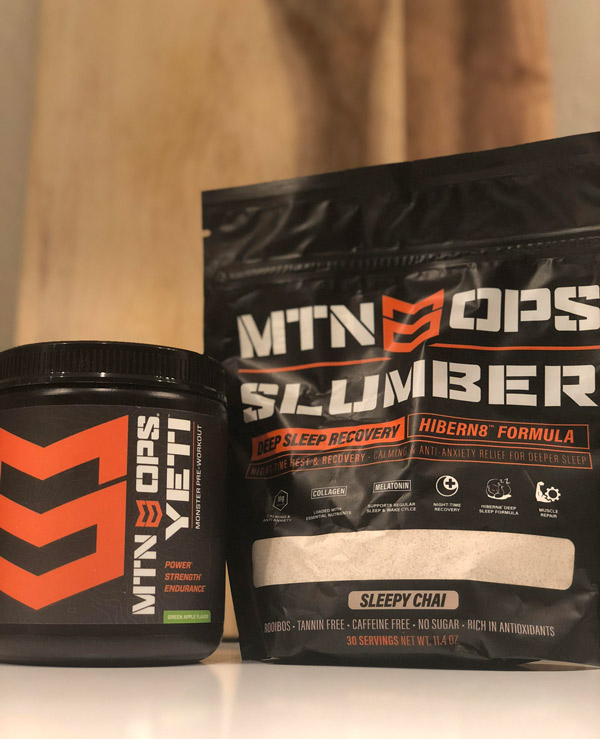 These are my two favorite supplements because:
The taste is incredible – and with supplements taste comes first with me.
I love the energy boost I get from the Yeti and the relaxation I get from the Slumber when it's time to shut it down.
---
---
So there you have it. Hopefully, this best hunting / outdoors supplements resource was helpful to you. If you have any questions about any of the above products, shoot them over via the comments below!