There are lots of articles out there about the best avalanche bag for snowmobiling where most of the avalanche bags aren't even used by snowmobilers.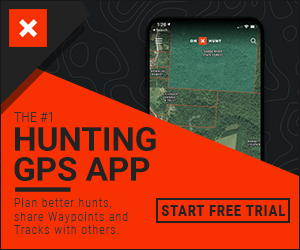 This article will be different than those. These bags are avi bags that you actually see sledders wearing on the mountain. (be sure to scroll to the bottom of this article to see the best avalanche airbag comparison chart)
So, if you're heading up into the backcountry to ride off the grid with your tricked out snowmobile, take a looksie at these bags as they are the best bags for avalanche protection.
We are looking at four different avalanche bags that work really well for backcountry snowmobilers. We tried our best at rewarding each manufacturer appropriately. Let's be honest though, when you're spending $500 + on a bag, it's going to be hard to disappoint. The manufacturers that disappoint don't stay in business long – especially with something as serious as avalanche protection for snowmobilers.
The Avi Bag Awards
Let's first take a look at some things that make up a solid avalanche bag. Feel free to skip around this article if you are fairly familiar with the latest avalanche bags.
How does an avalanche airbag backpack work?
In simple terms, an avalanche bag is a backpack you wear that contains an airbag system that when deployed fills with some kind of air that turns you into a much larger object in the snow. With avalanches, larger objects tend to rise to the top, while smaller objects tend to sink.
The image below does a great job showing how this works: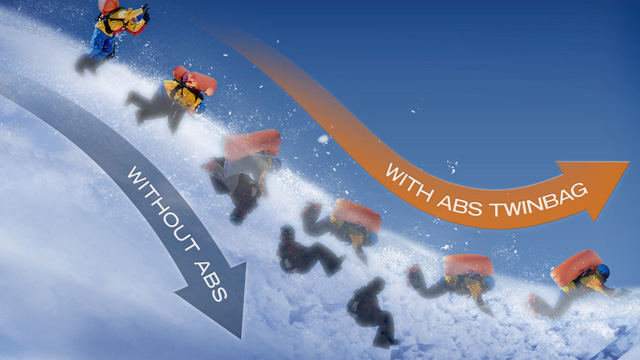 Most avalanche airbags come with a bright-colored airbag as to make it easy to spot on the mountain. You typically see an orange or red color. If you happen to pop yours open and it's white, turn that sucker back in! (partially joking…this should never be the case)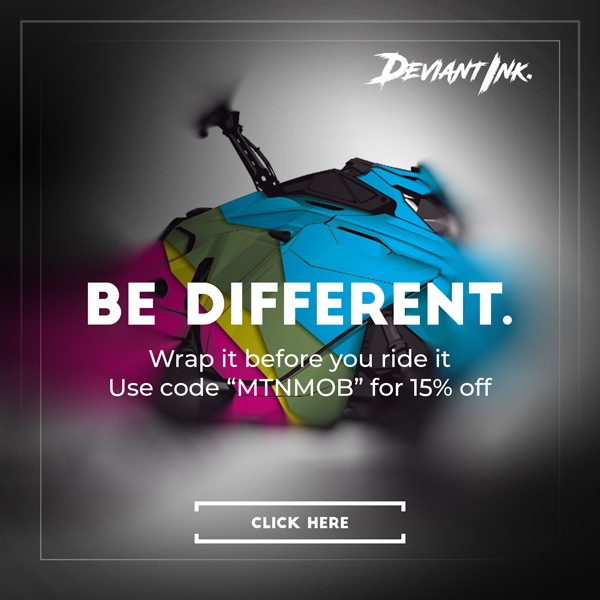 Does deploying an avalanche bag guarantee survival? No, actually. But it definitely increases your chances for survival. Just like a hunter would be silly to trace around in grizzly bear country without bear spray and/or a firearm, a backcountry sledder should follow suit.
Nowadays, snowmobiles are so powerful that you often times don't realize the type of serious terrain you are in because of how easy the sled got you there. This means the call for all backcountry sledders to be responsible with riding with the right snowmobile safety gear is essential now more than ever.
What are the different types of avalanche airbag activation systems?
When you pull your avalanche bag handle your air bag deploys and fills up quickly (within seconds). We typically see two kinds of air activation:
Compressed air/gas: You'll find these in metal cylinders that need to be refilled after each pull and checked every season.
Electric fan: We're starting to see more of these out in the wild as they are reusable – not like a canister where you have to refill after each deploy. These types of bags are starting to gain traction with how convenient they are to get refilled. Plus, there's a cost associated to refill your canisters…typically between $15 and $30 to refill a compressed canister.
Let's take a look at the most common and popular avalanche bags for snowmobiling.
Snowpulse Highmark Pro 3.0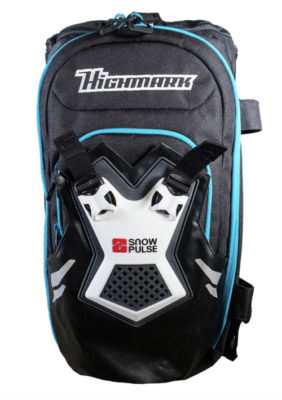 This is is the airbag system I've personally used for the last three years. I've liked it a lot for a few reasons. The size of the bag is a bit bigger than some of the BCA float air bags my friends/family have + it has a bunch of pockets to keep my gear organized. This isn't for everyone, though. I personally like a bigger bag in case I ever need more space and I'm used to the size so having it be bigger isn't a big deal to me and really never was – it was what I was use to. This bag also inflates around your shoulders to help protect your neck and head from debris in case of an avalanche.
Highmark claims this bag provides the best protection in the case of an avalanche with the Protection Airbag System and utilizes the lightest, smallest deployment system of any avalanche bag technology on the market.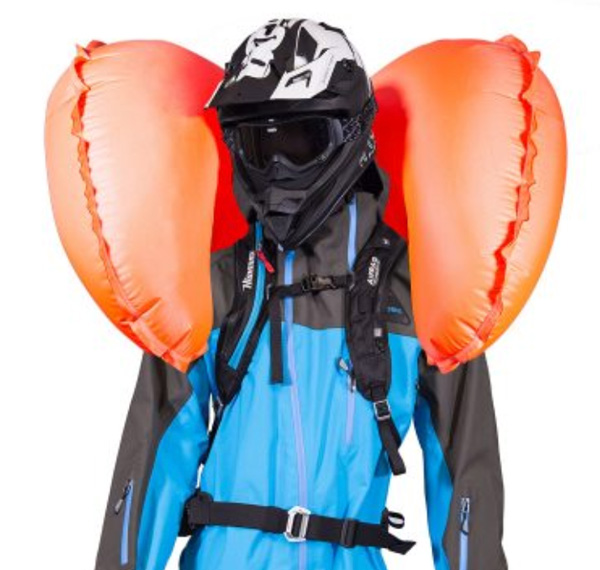 Specs/Features
Price: $899
Volume: 1342cu in
Deployment System: compressed air
Canister Included: no
Pockets: [external] shovel blade, shovel handle, 1 hip belt, [internal] 3 stow, 1 probe, 1 fleece-lined goggle
Claimed Weight: [with airbag and canister] 7 lbs 4.8 oz
Manufacturer Warranty: lifetime


Watch this bag deploy in a pre-season test
Replacement canisters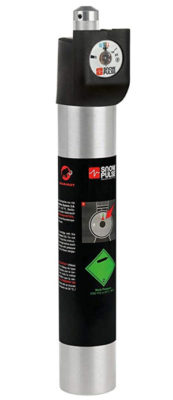 You can pick up the replacement canisters on Amazon (or your local dealer if they carry Snowpulse) for about $190.
Click here to see the replacement canister.
BCA Float 22
The Float 22™ avalanche airbag is designed for out-of-bounds, off-piste, freeride, and mechanized skiing and snowboarding. Creating buoyancy and helping you float to the surface, the 150-liter airbag not only decreases your burial depth but also protects your head and neck from trauma in an avalanche. The Float 22™ is BCA's lightest and most affordable airbag backpack available. It will easily carry your winter rescue tools, lunch, water, and extra layer for a full day in the backcountry. All BCA Float packs include integration for BC Link™ Radios, hydration sleeve, dual zippered shoulder straps, and molded back panel.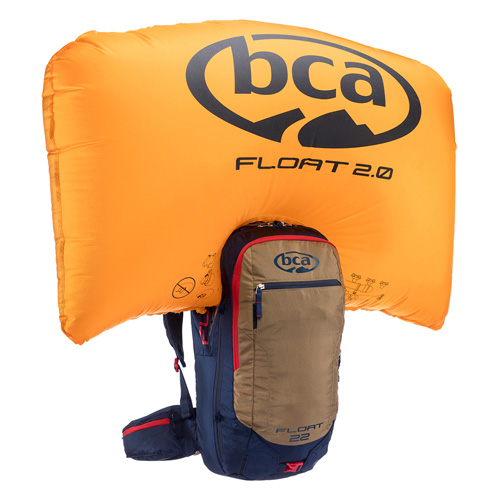 BCA's 200 authorized refill locations around the world make it the easiest refillable airbag system on the market.
Specs/Features
Price: $499
Volume: 22L (1343cu in)
Deployment System: compressed air
Canister Included: no
Pockets: 1 goggle, 1 hip, 1 internal mesh
Claimed Weight: [with airbag and canister] 5lb
Manufacturer Warranty: 1 year
You can pick up the BCA Float refillable cylinder here on Amazon.
PIEPS JETFORCE TOUR Rider
The 200-liter JETFORCE airbag can be filled in less than 3 seconds thanks to the jet-fan rotor that spins at 60,000 revolutions per minute (by comparison, a hairdryer spins at 4,000-20,000 rpm). After 3 minutes, the airbag automatically deflates, reducing pressure on the user. In the case of a full burial, this can create an hollow space that increases the chance of survival.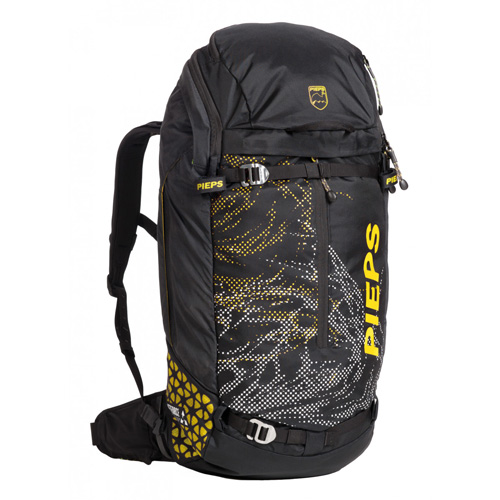 500 charge cycles ensure a long-lifetime, self-discharge for easy storage properties.
Specs/Features
Price: $1050
Volume: 24L (1464cu in)
Deployment System: electric jet fan
Canister Included: n/a
Pockets: special pockets for shovel and probe, 1 internal (might be more but not sure)
Claimed Weight: 7.5lb
Manufacturer Warranty: 2 years
Klim ATLAS 26 AVALANCHE AIRBAG PAK
Klim took industry-leading avalanche airbag technology and built it into a snowmobile-specific backpack for mountain riders. The 26-liter Atlas pack is designed around a multi-use electronic airbag system that is not affected by cold temperatures. Robust materials and construction prepare this pack for heavy powersports usage. Airbags help you float on top of a moving avalanche, reducing the risk of burial. Ride thrilling backcountry terrain with more peace of mind and quick access to necessary equipment.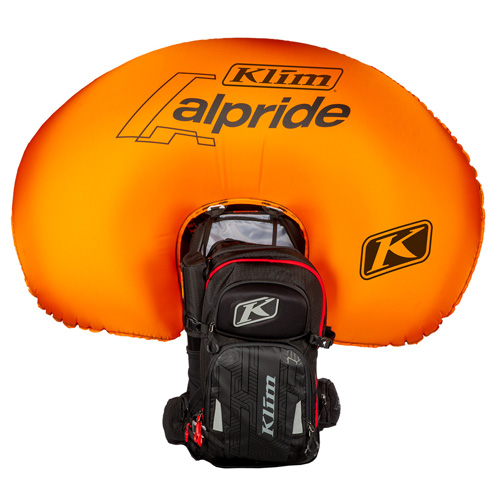 Specs/Features
Price: $1,199.99
Volume: 26L (1586cu in)
Deployment System: electric jet fan
Canister Included: n/a
Pockets: special pockets for shovel and probe, 1 internal (might be more but not sure)
Claimed Weight: not sure but they claim to be the lightest snowmobile-specific airbag
Manufacturer Warranty: 2 years
Our favorite snowmobile avalanche bag accessories:
Best Avalanche Airbag Comparison Chart

Conclusion
So there you have it – a quick overview of the best avalanche bag for snowmobiling! What avalanche bag system do you run? Let me know in the comments…did we overlook one?