Snowmobiling is an extreme pursuit, taken place in extreme conditions. Without the right gear, a trip to shredville can end up not just dangerous but potentially deadly.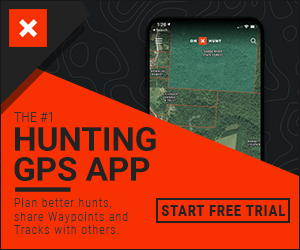 Battling below freezing temperatures, fresh snow dumps, slush and machine breakdowns are a regular part of the snowmobiler's experience.
Due to these factors, rider apparel can be almost as important as the snowmobile itself. A quality one-piece snowmobile suit produced specifically for the heavy demands of those winter riding pow sessions will not only help to keep the rider more comfortable out in the elements, but add function and security to the overall setup. 
In this article we trudge waist deep through the world of snowmobile one-piecers; explaining what they are, what to look out for, and the pros and cons versus a two-piece system.
We will also review a range of one-piece products, whilst giving insight on how to choose the best snowmobile onesie for your backcountry needs.
The Quick Takes:
For detailed one-piece snowmobile suit comparison guides, scroll down further in the post for the goods!
---
What is a One-Piece Snowmobile Suit?
A snowmobile one-piece suit is an outer layer snowmobile suit made up in one piece, or onesie, or monosuit. It is designed to be a single encapsulating unit, replacing the need for separate jacket and pants (or bib).
The lack of restriction around the body gives the rider comfort and mobility whilst also supporting the retention of body warmth.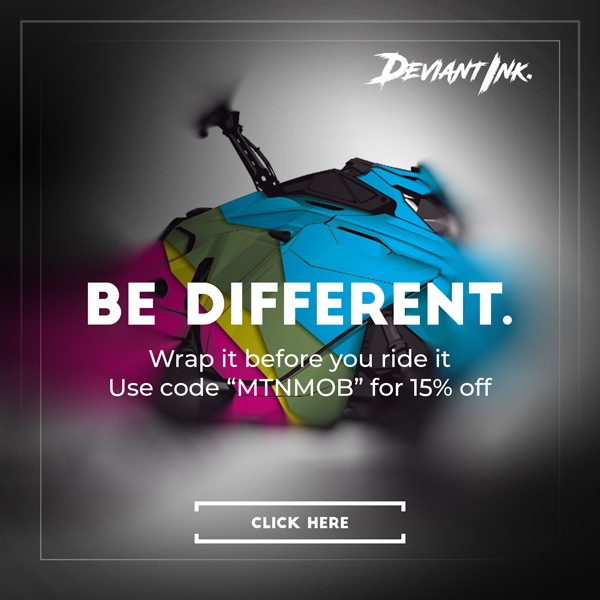 This becomes possible as the monosuit creates one large pocket of air around the body, not too dissimilar to the idea of the winter mitts, albeit on a whole body scale.
In this article we'll use one-piece, onesie, and monosuit interchangeably throughout.
One-Piece vs Two-Piece
In comparison to separate jacket and pants, the onesie tends to offer a more comfortable fit as constriction points and overlap for fitting to the body are removed. Without this overlap there is also less room for cold air, snow and water to find its way to the body. Monosuits are also generally lighter than the jacket/pants combination.
One of the drawbacks of the single suit is that removal of the clothing can be more difficult; where if you were to enter an establishment, a single jacket would be easy to remove.
A two-piece system would also offer the ability to interchange between different jacket or pants options to fit the conditions.
---
One-Piece Snowmobile Suit Factors To Consider
You can be forgiven for thinking "it's a snow onesie, how complicated can it get?". Not all snowmobile monosuits are created equal, and there are different designs and factors to consider when determining which monosuit you should buy. Compromises or differences across seemingly minor factors will compound, resulting in a different overall experience for the rider.
Insulated vs Non-Insulated
Snowmobile one-piecers come either insulated, or without insulation. The non-insulated one-piecers (also known as a "shell") provide protection from the cold wind, snow and water. The uninsulated suits are best worn as part of a layered clothing system; using base and/or mid-layers.
The insulated onesies may on its own keep the rider warmer, however, even though they do come with ventilation options they may make for a little too toasty or sweaty of an experience for the physically active rider.
Insulated: Best used in colder temperatures and for casual snowmobiling.
Non-insulated: Best used in varying weather conditions or by physically active riders.
Construction
One-piece snowmobile suits come either in two or three layer construction, depending on whether insulation is built into the suit. The outer shell is designed to be durable given the nature of riding through the wilderness. The last thing you want is for it to get ripped open on a branch. 
On the underside of the suit is an inner liner, usually made of breathable, moisture-wicking material for rider comfort and heat management. Monosuits are usually produced with some form of laminate, Gore-Tex or comparable technology to aid in water resistance.
Zippers and Seams
The fabric connection points and openings are areas susceptible not only the wear but also as a point of entry for cold air and water. If you are looking to ensure your suit stays as water-free as possible, look for for sealed or taped seams and Aquaguard zippers; which help to keep water out.
Zippers can be found all over the suit; whether it be the main line to zip yourself in, for ventilation, pocket access or drop seats for bathroom practicality. Ideally, all of these areas would have some form of sealing technology.
Vents, Pockets and Drop Seat
Ventilation points come in handy when needing to cool the body down or dissipate excess moisture from within the suit. Vents are usually placed in a few key spots on the monosuit, such as under the armpits, along the sides of the torso and along the thighs.
Pockets form a basic utilitarian function; being able to stash away your things. When out in the wilderness you may have more that you wish to carry on person than just the old "wallet, phone, keys". A few large pockets on the outside, with one or two on the inside chest is a common pocket configuration for monosuits.
Drop seats…. A long zipper setup running side to side along the rear of the suit to improve accessibility and practicality for bathroom breaks. Not all snowmobile monosuits come with a drop seat, so it important to determine whether or not you need one, or if you are okay with shedding the whole suit shall that situation arise.
Gaiters and Cuffs
Even though the snowmobile onesie removes the risk of snow intake through the waist area, we still have the wrist and ankle regions to contend with. Waterproof, adjustable suit arm-ends and pant-bottoms help to reduce the chance of snow or water finding its way into your kit. 
The addition of inner powder cuffs for your hands and extended outer cuffs on both arm and leg help to create more barriers against snow entry around those areas of vulnerability.
Suspenders
Most snowmobile one-piece suits now come with internal suspenders incorporated into them. These help the rider to adjust the suit to fit more comfortably and to give the feeling of the suit being more connected to the body. 
Beyond the fit, the suspenders also have the additional benefit of being able to remove the top half of the onesie without the entire thing falling to the floor. This comes in handy when coming in and out of establishments, or when you want to cool yourself down after a heavy session.
Built-In Padding
Snowmobiling is a physically engaging activity. Body protection and pads are commonly worn underneath the onesie, however many companies incorporate additional padding into the suit itself. 
Beyond the obvious additional knock protection, this padding also offers the additional benefits of cushioning in areas that are in regular contact with the snowmobile, and creates curves or bends in the suit at key joints to make more a more natural riding posture.
Fitting
Even though you don't have waist sizes to contend with; you still want a snowmobile onesie that fits you correctly. One that is too small will be difficult to fit any pads underneath and will also restrict rider movement.
A one-piece snowmobile suit that is too large will become baggy and cumbersome. Suits with a decent level of stretch or flex in their material makes for a better fit and range of movement.
Price
Prices vary from company to company, one-piecer to one-piecer. As a whole, snowmobiling is not exactly a sport for the tight pocket. One-piece snowmobile suit prices on average sit between the $500-800 mark, with features, fabrics and level of detail being some factors affecting price variability.
---
Snowmobiler's Guide: The Best One-Piece Snowmobile Suits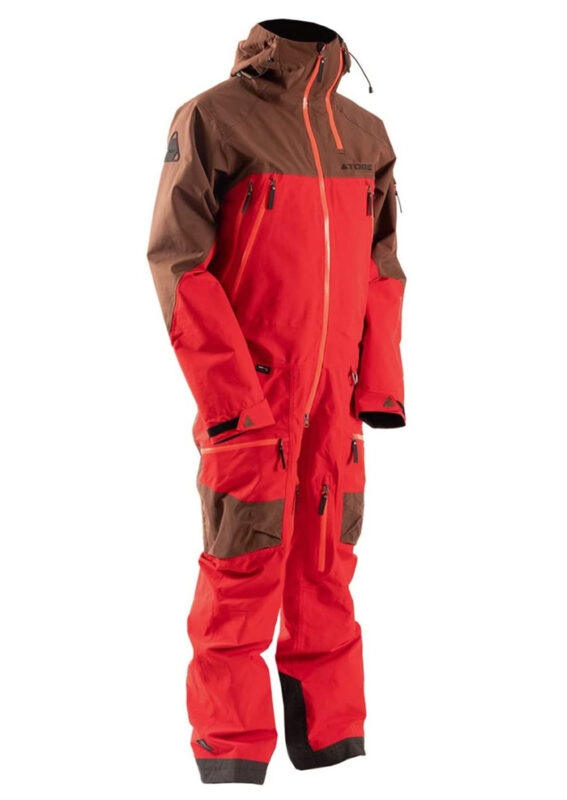 Key Features:
| | |
| --- | --- |
| Insulation: | Non-insulated (shell) |
| Weatherproofing: | 45,000mm waterproof rating, breathability rating unstated. Fully taped seams, waterproof zippers. Windproof. |
| Layer Materials: | 2L Sympatex outer shell. |
| Protection: | Armortex Kevlar reinforcements on ankle and inner calf. Cordura reinforcement to shoulders and seat areas. |
| Extra Features: | Adjustable suspenders, multiple external pockets, phone and goggle pocket, athletic fit. |
| PRICE: | $799 |
Our Thoughts on the Tobe Macer Monosuit:
Where this monosuit really excels is in its emphasis on waterproofing and fit. With the close to the body fit this suit can be used for more than just riding; and should keep you dry even when trudging through waist deep snow.
Although it may not be quite as breathable as a couple other options on the list, the ability to keep the rider dry here makes this a great option for those riding in wetter or slushier snow conditions where water can really become an issue.
In a Nutshell: As waterproof as it gets.
---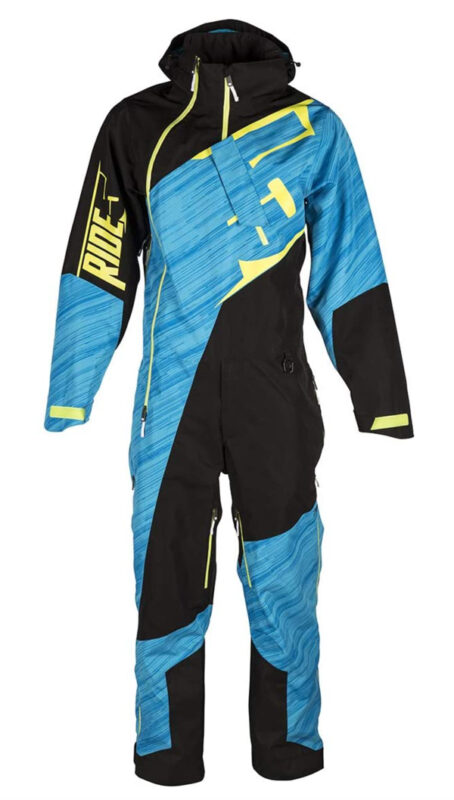 Key Features:
Insulation:
Non-insulated (shell)
Weatherproofing:
10,000mm waterproof rating, 10,000g/m2 breathability rating.
DWR (Durable Water Repellent) coating, waterproof coil zippers.
Layer Materials:
5TECH material with Cordura HP 300d polyester.
Protection:
600d polyester reinforcements at main contact points.
Extra Features:
Internal suspender system, multiple pockets, ventilation (armpits, sides and thighs).
PRICE:
$499
Our thoughts on the 509 Allied one-piece suit:
The most affordable piece on this list, the 509 Allied Monosuit is the bread and butter of snowmobile onesies. A shell-style, super trendy outfit with standard waterproofing and reasonable breathability, it's a whole lotta function AND flash. 
With vents and pockets throughout, inner suspenders and basic reinforcements, the Allied suit would be great for the more casual, fair-weather rider that doesn't wish to break the bank.
In a Nutshell: Bread and butter budget option.
---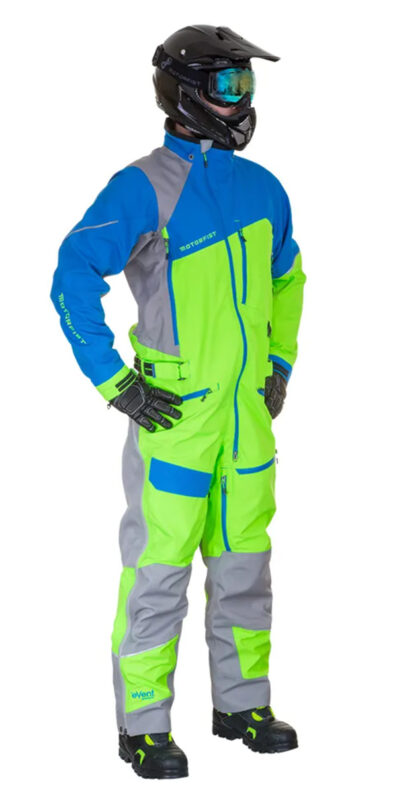 Key Features:
| | |
| --- | --- |
| Insulation: | Non-insulated (shell) |
| Weatherproofing: | 20,000mm waterproof rating. 10,000g/m2 breathability rating. Fully taped seam. Aquaguard pockets, zippers and vents. |
| Layer Materials: | eVent Fabrics DVexpedition outer shell, 300D polyester (body, arms, legs), 915D polyester panels (seat, knees, lower legs), fleece lined sleeves. |
| Protection: | Articulated seat and knees, gusseted crotch, removable knee padding. |
| Extra Features: | Drop seat, adjustable suspenders, adjustable waist, thigh and chest pockets, multiple vents. |
| PRICE: | $823 |
Our thoughts on the Motorfist Blitzkrieg Onesie:
The Motorfist Blitzkrieg Suit is the most detailed in this list. This suit focuses heavily on waterproofing and breathability; given the high waterproof rating and taped seams across all vents, pockets and zippers.
As opposed to a universal material construction, the Blitzkrieg has been designed with different fabrics in the areas they are most needed. Although at a higher end price point, this is the kind of suit you want if you want a suit that can do it all.
In a Nutshell: The best of the bunch.
---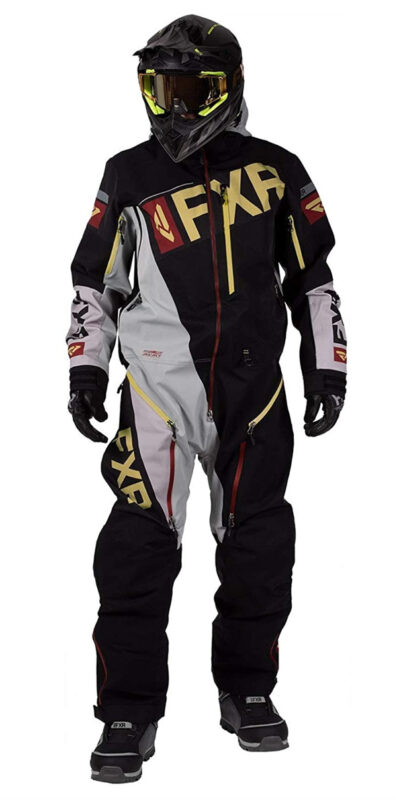 Key Features:
Insulation:
Insulated with 120g FXR Thermal Flex fill
Weatherproofing:
20,000mm waterproof rating. 8,000g/m2 breathability rating.
HydrX Pro laminate with ACMT seam-sealed lining system, Aquaguard and HD#8 waterproof zippers.
Layer Materials:
Omni-stretch polyester/nylon shell.
Protection:
Paddled knees with removable knee pads, thermal seat, lower back insert.
Extra Features:
Chest, bicep, side body and leg vents. Inner beacon pocket, goggle wipe, adjustable suspenders, reflective panels.
PRICE:
$745
Our thoughts on the FXR Ranger Insulated Monosuit:
The FXR Ranger is the only insulated monosuit on the list. A strong insulation and waterproofing system should make for a warm and comfortable ride for the rider to likes to cruise, but doesn't work too hard on the machine. Thermal fabric in the seating area reduces the impact of the cold and dampness, especially during long rides in the saddle.
In a Nutshell: Insulation and all-round protection.
---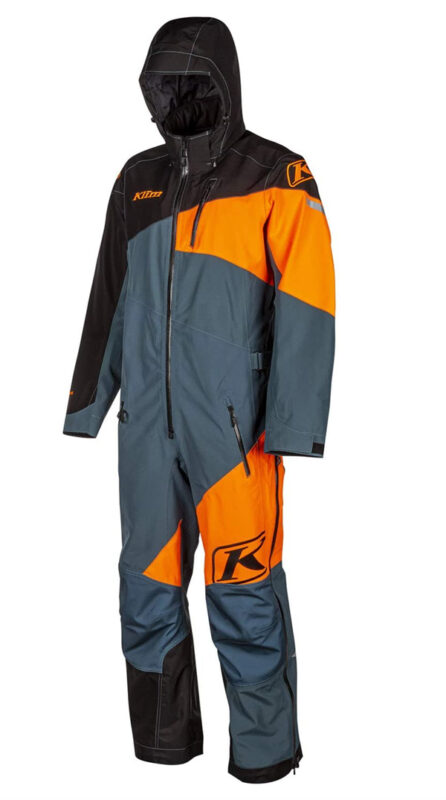 Key Features:
Insulation:
Non-insulated (shell)
Weatherproofing:
Unstated waterproof and breathability ratings.
Taffeta lining, waterproof sealed zippers.
Layer Materials:
Laminated Goretex performance shell, microfleece collar.
Protection:
Overlays on knees and inner boot panels, knee pads, 3-layered in seat area
Extra Features:
Removable suspenders, multiple vents, goggle cloth, adjustable waist.
PRICE:
$649-$679
Our thoughts on the KLIM Ripsa One-Piece Suit:
The KLIM Ripsa One-Piece snowmobile suit is exactly what you would expect out of a non-insulated, "get the job done" kind of unit. Goretex is used throughout in an emphasis on waterproofing, and is used in a three layer format on areas more susceptible to dampness, such as the seat. Backed by KLIM's warranty, and history making the highest-quality/rugged snowmobile gear, this Ripsa one-piece is an excellent choice and worth the money as this unit will crush the deep pow with your for years to come.
In a Nutshell: Functional mid-range unit.
---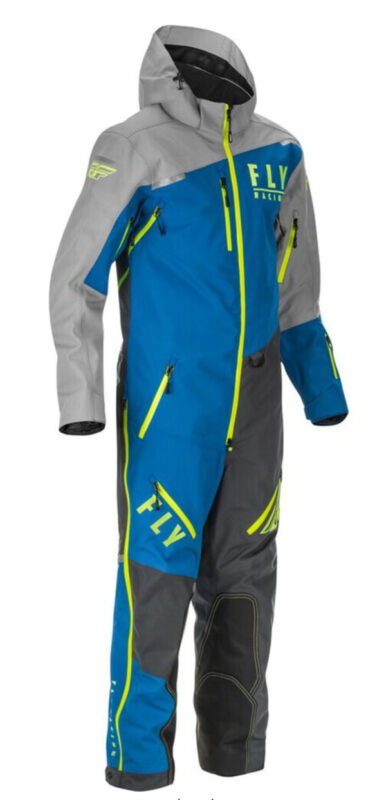 Key Features:
| | |
| --- | --- |
| Insulation: | Non-insulated (shell) |
| Weatherproofing: | 10,000mm waterproof rating. 8,000g/m2 breathability rating. Hydraguard weatherproof technology, Aquaguard zippers, windproof. |
| Layer Materials: | Cordura outer shell, micro-fleece lined collar. |
| Protection: | Reinforced knees, inside of lower leg and bottom cuffs. Removable internal knee protection. |
| Extra Features: | Adjustable suspenders, two vents, reflective panels for visibility, detachable safety whistle and goggle wipe, waterproof accessory pocket. |
| PRICE: | $589 |
Our thoughts on the Fly Racing Cobalt Monosuit:
The Fly Racing Cobalt monosuit sits on the lower end of the price scale, but does what it needs to do to class itself as good value. The waterproof and breathability ratings are serviceable, but at the lower end on the monosuit scale.
The rounded out details such as removable knee protection, safety whistle and reflective panels make it a good choice as a versatile suit option for those who are are out there for shorter periods of time, in less-extreme conditions.
In a Nutshell: Fair rig, fair price.
---
Tips for Buying One-Piece Snowmobile Suits
Getting the most out of your one-piece snowmobile suit means making smart choices; not only by making sure you get the right onesie, but by not compromising on the other relevant apparel and gear.
Function vs Fashion
We all want to look awesome ripping around in the snow, and if you can find a suit that fits your personality to a tee, then go for it! But… only if the construction of the onesie is what you need it to be. 
There's nothing cool about calling your day short because your gear looks great but doesn't do what it ultimately needs to do. Looking great shouldn't be at the expense of safety, comfort and functionality.
Layering
The layers that you wear beneath your onesie can be almost as important as the suit itself. The snowmobile onesie will help with protection from the wind, snow and external water, but maintaining a steady body temperature and condition comes down to how your base and mid layers work with it. 
Good quality layers (such as merino) will help to keep you warm and wick away sweat so that you do not become uncomfortably saturated in the suit. As an additional plus, it will help to reduce that hard work funk you build up from a big day out and about.
Supplement with Proper Gear
You may have found an awesome snowmobile onesie that ticks all the boxes and holds up to the stresses you place upon it in the field… but your fingers are numb, the cold air is squeaking past your goggles, your face mask is crusted up and your boots are saturated.
Making sure the rest of your gear; helmet, goggles, face mask or neck warmer, gloves, socks and boots are all in good working order and tailored to riding conditions will massively improve your overall riding experience. Wet boots and thinning gloves make for not only an uncomfortable time, but can become a health and safety risk. If you're going to do it, make sure you do it right.
Summary
When it comes to snowmobiling the stakes are high, and the elements unforgiving. Battling freezing temperatures, bitter winds, snow and water makes staying comfortable (and safe) a challenging task. Factor in the hard work the rider puts in; with body temperatures fluctuating from cold and dry to hot and sweaty to cold and damp, you need a suit that can cater to these changes.
A one-piece snowmobile suit gives you the best chance of keeping warm, dry and comfortable out in the field; and is always a worthy investment. Being self-aware of the type of riding you do, the conditions in which you ride and the functions that you require of the suit will help you to determine the best snowmobiling onesie for your specific riding needs.